Man In Elmo Shirt Delivers An Instant Classic Of A Tirade For $500 Traffic Fine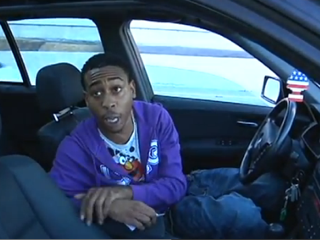 The gentleman in this edition of KRON 4 News' "People Behaving Badly" segment just received a $500 ticket for driving alone in a carpool lane. Most people upon receiving such a hefty fine would merely grumble some profanities at themselves and maybe think about appealing. The star of this instantly viral video? He decided to remind the officer repeatedly that he was a "fat-ass" that didn't "even have a real job" and couldn't afford a ticket like that if the tables were turned. Adding to the hilarity of this officer calming taking this barrage or insults, the culprit was wearing a happy-faced Elmo shirt that clashed comically with his mood.
RELATED: Elmo Offers Solution To Congressional Discord In Hard-Hitting Erin Burnett Interview
Upon seeing the video camera, the man began threatening to break it if it entered his vehicle, before shouting "fat-ass" repeatedly at either the police officer or the cameraman (Best Week Ever seems uncertain as to which was the recipient). When told he was being filmed from KRON 4's "People Behaving Badly" segment, he replied, "what about 'People Overeating On Channel 4,' Fat-ass?" This was more or less the tenor of the entire exchange.
When the reporter noted that the ticket was $500, the driver didn't seem to mind. "I can afford it!" he shouted, contending that the cop probably couldn't. "I bet you don't drive something nice, and you're already 50-something years old!" He went on to explain that the cop and/or reporter was irrelevant and useless– "that's why you are out here videotaping, you don't even have a real job!" "Why don't they have to out filming what's going on in Oakland, all the riots and shit?" he asked. "They got your fat, lazy, non-relevant, non-factor ass filming highway patrol shit."
While the internet consensus seems to be that the funniest bit of this video is the constant "fat-ass" insults, there is something special about dragging the Occupy Oakland movement into this mess, and the careful way he dismantles an entire career. As far as civil disobedience goes, it doesn't get more hilarious than this. We also appreciate that Best Week Ever framed this amazing (and amazingly satisfying, for anyone that has gotten a ticket for some benign defiance of the Nanny State) video with Drudge sirens. As he drives off, American flag pine-tree car freshener billowing in the wind, we can't help but hear the Herman Cain theme song "I Am America" blasting as he speeds away. And now, onto finding out who this guy is and getting him a reality show.
Watch the clip via KRON 4 below:

Have a tip we should know? tips@mediaite.com