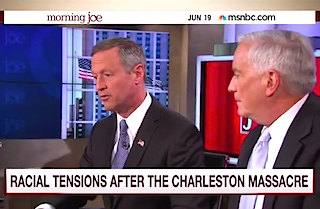 Democratic presidential candidate and former Maryland Governor Martin O'Malley had a lot to say about the role of gun control and mental services in addressing mass shootings like that one that took place in Charleston during his appearance on Morning Joe Friday. But when it came to the question of race, his answer could use some serious work.
Asked to what extent the shooting "gets at the core of some racial history that we still have," O'Malley said that while the facts are "still evolving," it would "appear that the racial motivation was certainly a big part of it." But then he was faced with the follow-up question of how we, as a country, address those issues — not exactly an easy question to answer.
At this point, things went downhill:
"We do it by — we do it by — by, uh — acknowledging the racial legacy that we share as Americans. And I don't know exactly how we — how we – how we address this, Walter. I mean, look, we — as Americans, all share a very painful racial legacy. And we need to acknowledge it and we need to take actions to heal it. But, I don't think anybody figured out the magic solution to that — "
Host Mika Brzezinski then came to O'Malley's rescue, cutting him off by saying this is the "same conversation" the media has every time an event like this one takes place.
"I don't know what takes it to the next level. I think our president might able to do that, and U hope he does. He seems extremely worn down by these events at this point," Brzezinski said of President Barack Obama's comments on the shooting, before changing the subject.
O'Malley's primary opponent Hillary Clinton did not exactly offer up any specific prescriptions for how to handle racism in her remarks on the shooting yesterday, but at the very least her insistence that Americans must face "hard truths about race, violence, guns and division" were more eloquent.
Watch video below, via MSNBC:
[h/t Daily Banter]
[Photo via screengrab]
— —
>> Follow Matt Wilstein (@TheMattWilstein) on Twitter
Have a tip we should know? tips@mediaite.com