Matthews Unaware 'Revenge' Was Obama's Line, Insists Romney Stoking Ethnic Fears With 'Revenge' Theme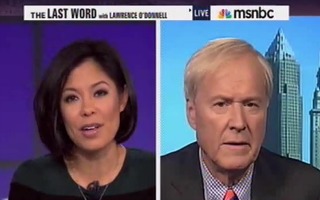 On a special edition of MSNBC's The Last Word, guest host Alex Wagner invited Chris Matthews on to discuss the events that have transpired in the waning hours of the 2012 campaign. Wagner asked Matthews to weigh in on the theme of "revenge," which President Barack Obama inserted into the dialogue when he told a crowd that "voting is the best revenge." Matthews admitted he did not know where the theme of "revenge" came from. When told by Wagner that Obama had invoked it first on the stump, Matthews criticized Mitt Romney for running with it. He said it was "of a piece" with the "dirty talk" and the "ethnic stuff" that he believes the Romney campaign has been stoking for some time.
After Wagner played a clip of Mitt Romney rehashing a line that president Obama said on the campaign trail — that "voting is the best revenge" — Matthews admitted that he was unaware how the "revenge" theme had come from.
Wagner explained that Obama had first said the line, and Romney had made it a part of his stump speech. Matthews digested this fact and determined that Mitt Romney was focusing on the theme of revenge because his audiences were thirsty for vengeance.
"It might fit with running robo-calls with Donald Trump. You having [John] Sununu as your chief surrogate," Matthews said. "There has been a bad side to the Romney campaign – he can talk sweetly about bipartisanship, but behind the curtains when no one is looking, of course, he's Donald Trump's best friend. He's putting people like Sununu out there to talk the dirty talk – the ethnic stuff. It's relentless. They haven't once' pushed back from it."
"It's always been the undercoating of this campaign – that ethnic talk. This talk about revenge is of a piece with that," said Matthews. "We grew up with it. We thought we got past it. It's there.
"It's a shame that that is part of the closing argument that Romney is making in the last few hours of this campaign," Wagner agreed.
Watch the clip below via MSNBC:
> >Follow Noah Rothman (@Noah_C_Rothman) on Twitter
Have a tip we should know? [email protected]