Christie Responds To GOP Critics Angry Over His Embrace Of Obama: 'Come See The Destruction'
Christie To GOP Critics Of His Embracing Obama: 'Come See The Destruction'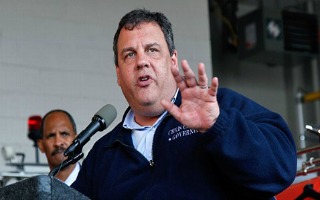 New Jersey Gov. Chris Christie cannot win for losing. He has taken significant criticism from Democrats during his term in Trenton over his outspoken and brash style – not to mention, governing as a Republican in a Democratic, Northeastern State. Now, after his embrace of President Barack Obama following the unprecedented destruction wrought by Hurricane Sandy, Christie has taken heat from his fellow Republicans. Today, Christie struck back against his conservative critics, saying that he continues to support Mitt Romney for the presidency and that the partisans attacking him do not comprehend the scope of the destruction his state is dealing with.
RELATED: Limbaugh Slams Chris Christie As Obama's 'Greek Column,' In Thralls Of 'Man-Love' For President
On Thursday, conservative radio host Rush Limbaugh joined a number of political bloggers in suggesting that Christie praised Obama too much for his response to the hurricane. Limbaugh said that Christie served as a "Greek column" for Obama during the president's visit to devastated New Jersey Shore.
In an interview with an Israeli news outlet, Christie hit back against those charges.
"The fact of the matter is what New Jerseyans expect from their governor is to work for them, not to work for any particular political party," said Christie. "I'm a Republican and I have endorsed Mitt Romney, I support him and I intend to vote for him on Tuesday."
"Anybody who is upset in the Republican Party about this, they haven't been to New Jersey. Come see the destruction, come see the loss," the New Jersey Governor concluded.
h/t POLITICO
> >Follow Noah Rothman (@Noah_C_Rothman) on Twitter
Have a tip we should know? tips@mediaite.com