Mediaite Q&A: Fox Business Network's Maria Bartiromo on the View From Davos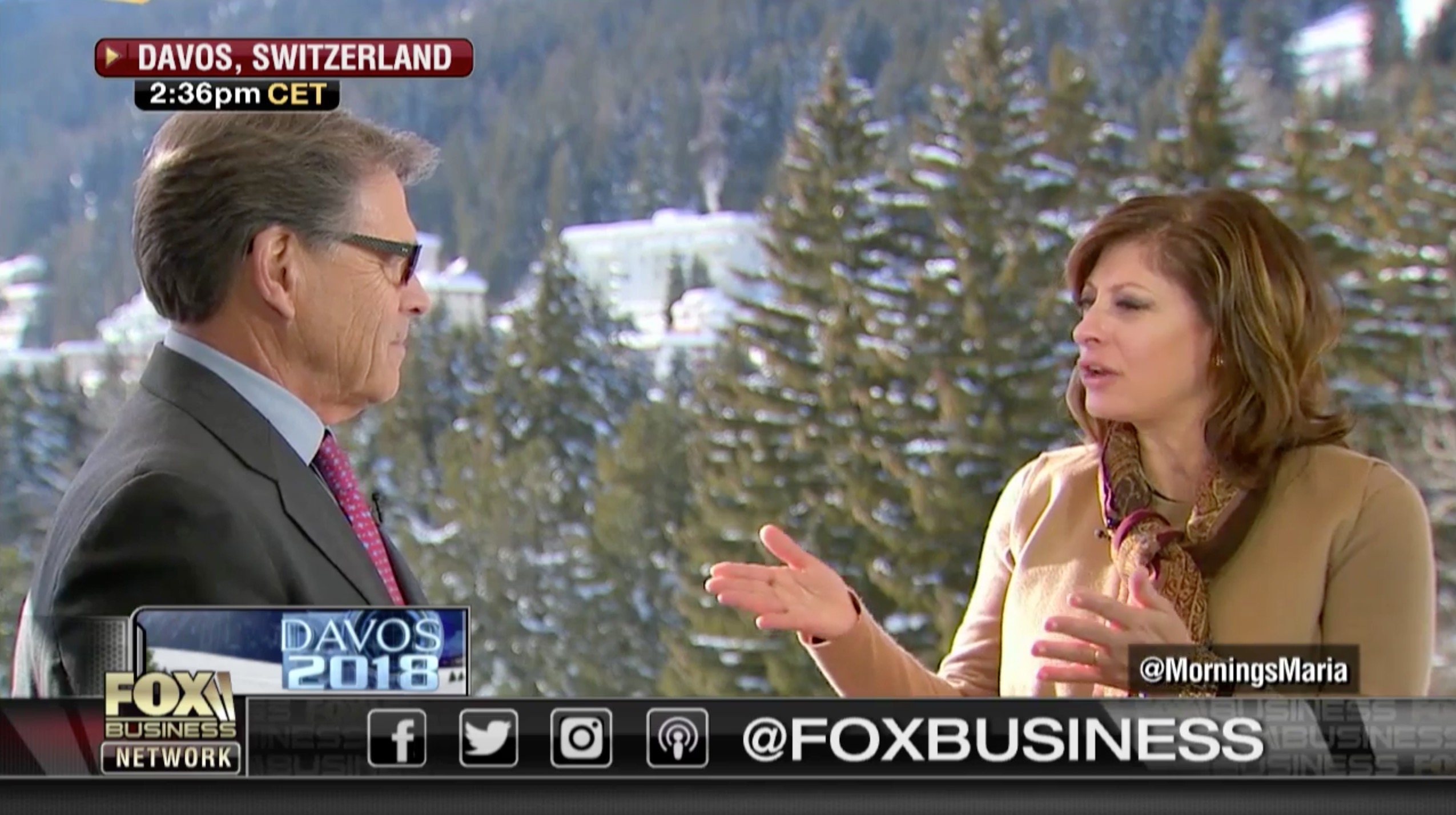 Fox Business Network's Maria Bartiromo jetted off to Davos, Switzerland this year for the World Economic Forum, an event she's covered for more than a decade.
But there's something different in the crisp Alpine air this year: President Donald Trump is attending the Forum — the first U.S. president since Clinton to make an appearance — and is expected to try and sell his "America First" vision of the world to the collection of globalist elites that Davos is known to attract.
Bartiromo has been hosting her show, Mornings With Maria, from the frosty mountainside of Davos all week, interviewing a slew of top political and business leaders, CEO's and diplomats, from Bill Gates to BlackRock CEO Larry Fink. She has also sat down with a bevy of Trump White House officials — from Rick Perry to a surprisingly attentive Wilbur Ross — who have ventured behind enemy lines to a place that would strike fear in the heart of even a half-buzzed Steve Bannon.
Mediaite spoke with Bartiromo to get her insights on Trump's arrival at Davos, what kind of reception the anti-trade crusader is set to receive, as well as what to expect in general from perhaps the most unpredictable Davos in recent memory.
You've been anchoring from the World Economic Forum this week. What has that been like? What's the mood at Davos this year?
The mood is very positive. Several CEOs, heads of state and money managers have discussed a much better economy. Not just in the U.S. but across the world. People are talking about the U.S. and the possible 4 percent growth in 2018, Europe and 2 percent growth, Japan and China also growing. For the first time in a long time, we are seeing synchronized growth across the world. There is a lot of anticipation for President Trump's arrival tomorrow. And there are a lot of positive comments about the new French president, President Macron. He gave a keynote today and his finance minister is also here. High marks for France. Interesting to note, the U.K. is now the under-performer in the euro zone. There is some discussion of higher rates, inflation and higher wages to come. This could be a negative on the horizon for markets but most people do not see that happening this year.
President Trump arrives at Davos on Thursday, but previous presidents have avoided the trip. Why do you think he's going?
I think he wants to tout a comeback for America. He wants to make a statement to the world I assume. He likely will discuss his new tax law and its impact. As well as his policies on trade. The administration is calling it an "engaged America" – they say America first does not mean America alone and he wants to discuss his policies with other world leaders. There are 70 world leaders here. Interesting to note there are investors in Europe I have spoken with who say they have changed their strategy to invest in the U.S. as opposed to Europe because of the tax implications.
Do you expect Trump to storm Davos with a confrontational, America First attitude?
I doubt he will storm in but he definitely has a big contingent. A big cabinet and congressional presence is here already.
What are the expectations in Davos for Trump's visit? Are participants anxious, bemused? And what do you expect his reception to be like?
I think people are anticipating him. He is scheduled to do a dinner with global CEOs Thursday night. I hear he is trying to convince them to invest in the U.S. He is also expected to give a speech to close out the program Friday at 2 p.m. local time. There are mixed reviews. But it appears he will get a warm welcome from Klaus Schwab from the World Economic Forum.
And the snow?
It is the most snow in 19 years, although it is not as cold as in past years.
[image via screengrab]
—
Follow Aidan McLaughlin (@aidnmclaughlin) on Twitter
Have a tip we should know? tips@mediaite.com
Aidan McLaughlin - Editor in Chief