Pizzagater Jack Posobiec Claims Dating App Framed Him With Fake Profile in Feminist Plot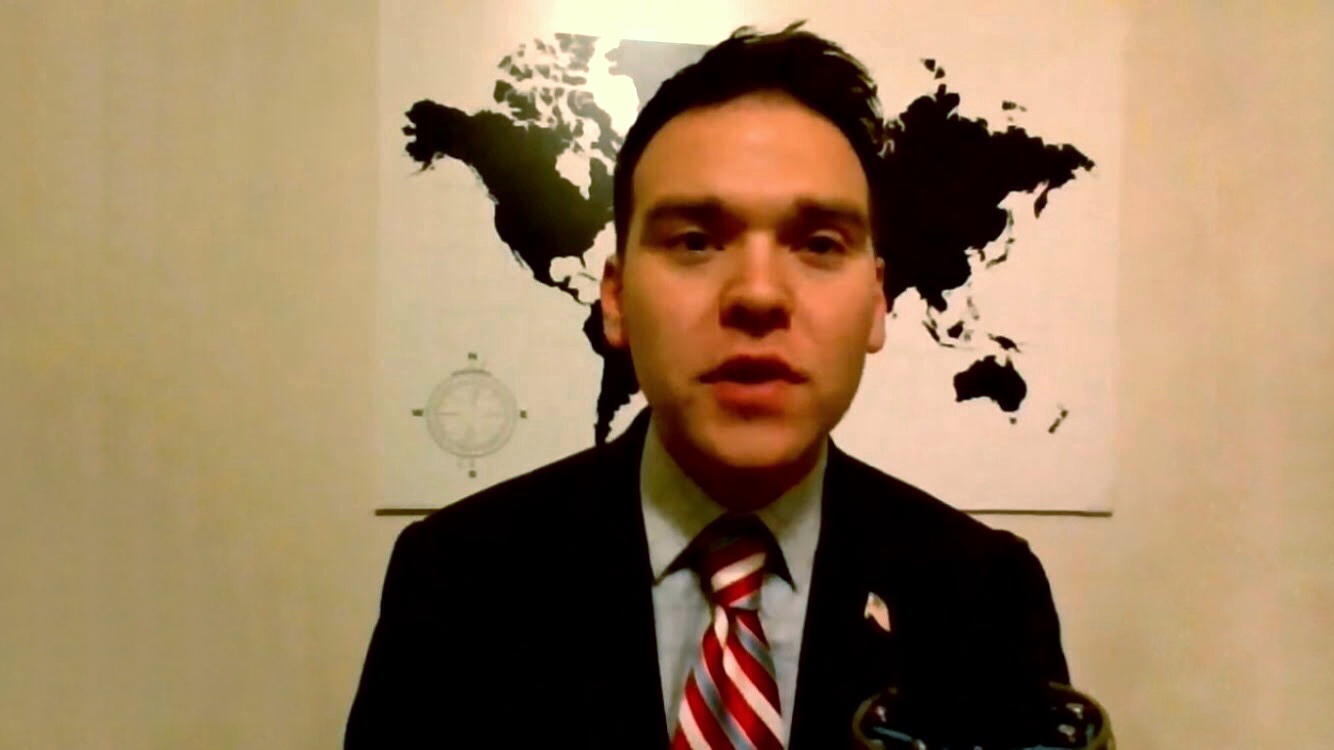 Jack Posobiec — Pizzagate truther, fringe pro-Trump media figure, and newlywed — claims the Bumble dating profile of him that surfaced on Twitter yesterday is a fake account that the app's managers created for free publicity in a conspiracy against him.
Screenshots of the Posobiec dating account went viral in a Wednesday tweet after user Lindsey Ledford posted the following:
is @bumble_app still a feminist dating app or the place where white nationalists / nazis go to cheat on their wives? pic.twitter.com/FUb8dwQVs6

— Lindsey Ledford (@deborahlindseyl) January 24, 2018
Posobiec, who spoke to Mediaite while attending a book launch for right-wing provocateur James O'Keefe, said he has "never used dating apps" and added that it's "just some trolls" posing as him.
"I've never used dating apps, I've got a really hot Eastern European wife," noted the "happily married" Posobiec.
He later joked with Gateway Pundit White House Correspondent Lucian Wintrich, who also attended the O'Keefe event, that his wife was actually out of his league and "too hot" to cheat on.
As someone who was launched into Twitter fame for pushing one of the more absurd conspiracies of the 2016 presidential election, Posobiec remained fully on brand — continuing his commentary on the incident by saying the profile was actually created by "someone at Bumble" to gin up a controversy for free media attention.
"Personally, I think that it's someone at Bumble trying to get earned media out of [creating a fake profile] because I've honestly never heard of that app," said Posobiec.
After being informed that Bumble has a reputation as the feminist competitor to the app Tinder, Posobiec seemed to believe he had solved the case.
"Oh, so it's feminist? Well there you go," he said. "They're trying to use this as a way to like get earned media by saying, 'Oh, we banned this guy who's a Trump supporter from our platform.'"
Bumble opted to not respond to these allegations, as the company does not wish to further engage in the controversy. They instead directed Mediaite to their posts on the controversy.
"Bumble was founded on the core values of kindness, respect, integrity and equality and we do not tolerate anyone who does not uphold these values on our platform," tweeted Bumble on Wednesday.
While talking to this reporter, Posobiec went on to express his disappointment that "people will stoop to this level [by creating a "fake" dating profile]" and added that "the same thing happened" to date-rape apologist and fellow Pizzagate conspiracy theorist Mike Cernovich.
But Posobiec's denials are flimsy at best: As first reported by BuzzFeed News, Bumble stated the account did in fact belong to Posobiec's official Facebook page. Bumble confirmed to Mediaite that the dating profile tied to Posobiec does indeed link to Facebook.com/jack.posobiec.
For those unfamiliar with Posobiec's body of work, he was one of the leading voices of the bizarre Pizzagate conspiracy theory, which alleged that Hillary Clinton-allied Democrats created a child sex-trafficking ring and operated it in the basement of a family friendly Washington, D.C. pizzeria.
Right-wing figures with relatively massive online followings — like Alex Jones, Posobiec, and Cernovich — pushed the unfounded theory so far that a North Carolina man armed with a semi-automatic rifle actually walked into the pizzeria looking for answers. While no one was injured, the man did fire multiple rounds from his AR-15 into the restaurant.
Posobiec responded to the incident by creating a false quote from the Washington police chief stating the shooting was unrelated to Pizzagate, despite the opposite being true. In a since-deleted tweet, he even said, "False flag. Planted Comet Pizza Gunman will be used to push for censorship of independent news sources that are not corporate owned."
Though, Posobiec's most noteworthy claim-to-fame might be the time he interrupted what he deemed to be an anti-Trump Shakespeare play by shouting, "You are all Goebbels!" He was subsequently mocked on Twitter for mispronouncing the last name of high-ranking Nazi Joseph Goebbels as "gerbils."
The "conservative Christian" Posobiec was married in late 2017 and is so sure that the Bumble account is not real that he vowed on Twitter to file "an FBI criminal identity fraud report" to stop the "harassment":
I am filing an identify theft report with the FBI over fraudulant accounts made of me online

The criminals behind this will not get away with it, they will be found, and they will be brought to swift, exacting justice.

This criminal fraud stops now

— Jack Posobiec ?? (@JackPosobiec) January 24, 2018
[image via screengrab]
Follow the author on Twitter (@calebecarma).
Have a tip we should know? tips@mediaite.com