Michael Eric Dyson Ignites Fits of Laughter on MSNBC with Rundown of GOP's Racist Code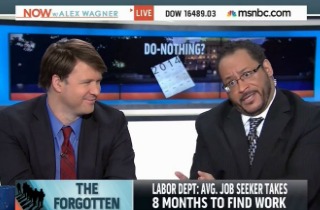 During a discussion on MSNBC about the failure of the Congress to extend long-term unemployment benefits through the end of the year, and progressive groups campaign to use the issue against Republicans ahead of the 2014 midterms, MSNBC contributor and Georgetown University Professor Michael Eric Dyson linked the issue to race and ignited a fit of laughter among his fellow guests on the set of Now.
Dyson noted that Republican opposition to extending jobless benefits carries a racial quality since it primarily aids minorities. He ran sparked a laughing fit when he ran down a list of code words used by conservatives to avoid making outright appeals to white racial solidarity.
RELATED: Dem Pollster Shocked to Find No Racism in Tea Partiers, So They Invent Some
The Nation reporter Ari Berman alleged that Republicans are less responsive to the needs of long-term unemployed because they are densely packed in urban areas. He noted that, in the wake of decennial reapportionment which benefited Republicans, they sequestered themselves largely in white, rural districts.
"Everything's skewed," Berman asserted. "All the people live in urban America but all the political power right now is in white, rural America."
"Who lives in urban America?" Dyson interjected. "Hmm. I wonder."
"This is welfare queen-lite. You don't even have to say it," he continued. "All you have to say is 'urban.'"
Dyson sent his fellow panelists into a fit of laughter when he noted that you would not hear Miley Cyrus on "Urban radio." "Who's twerking here?" he asked. "And who's getting twerked?"
He said that unemployment is "essentially a problem of American citizens that happens to disproportionately affect Latinos and African-Americans."
"It may start in those communities, but it's creeping up the IBM ladder to you," Dyson concluded.
Watch the clip below via MSNBC:
[Photo via screen grab ]
— —
> >Follow Noah Rothman (@NoahCRothman) on Twitter
Have a tip we should know? tips@mediaite.com