Michael Steele And Karen Finney Clash Over Fast And Furious 'Witch Hunt' On MSNBC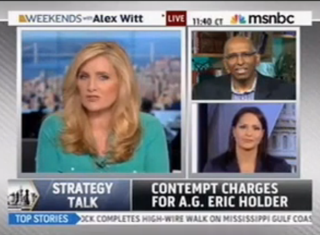 On this afternoon's Weekends, host Alex Witt did her best to get Karen Finney and Michael Steele to come to some bipartisan agreement on the Fast and Furious investigation. She did, in the end, succeed, but not before Finney challenged Rep. Darrell Issa's partisan reasoning for going on a "partisan witch hunt" against Attorney General Eric Holder.

RELATED: Michael Steele: Optics Of Holder Contempt Hearing 'Not Good For The GOP'
Steele argued that Rep. Nancy Pelosi's opposition to the investigation was "lunacy" and "leapfrogging and trying to connect the dots to voter suppression," especially in the context of "legitimate concerns that were presented… from the Congress to the Justice Department." He added that "this thing started with bipartisan support," so the Democrats are actually backtracking now. Finney disagreed, as "the rest of what Pelosi said is that Democrats did support and contribute to the investigation," but that much of the investigation had exonerated the high levels of the Obama administration. "Arizona ATF agents said they had not briefed Obama administration officials of the program," she argued, along with other evidence which showed this was "clearly a partisan witch hunt with a very clear intentional goal of going after Eric Holder." Finney added that Holder had shut down the program himself and started an investigation when he found out about the way the program was failing.
As promised though, the two ended up a positive note– both Finney and Steele agreed that the family of Border Patrol Agent Brian Terry deserved an investigation and an answer for why their son died.
The segment via MSNBC below:

—–
»
Follow Frances Martel on Twitter
Have a tip we should know? tips@mediaite.com