Mika Brzezinski Asks Jon Huntsman If He Thinks Romney's 'Got Nothing' Regarding Foreign Policy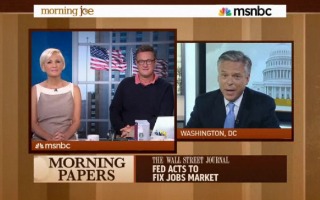 Former Republican presidential hopeful Jon Huntsman appeared on Morning Joe Friday, where he was asked to weigh in on Mitt Romney's response to the turmoil overseas.
We Republicans, while George W. Bush was president, kept talking about how politics should end at the water's edge," said host Joe Scarborough. "Do you think any Romney advisers that suggested that he get out of this quickly after the death of our ambassador made a mistake?"
"Well, let's face it, we're in a political season," Huntsman replied. "And so much of the messaging is political. This is a time when you extend and express condolences to the Stevens family and to the three others who were killed. […] This is also a time where the President has said that he will go after those who killed our American diplomats abroad. I think these are things that all Americans can rally around. But let's begin to have a discussion. The point that I want to make, Joe, is this is a chance for candidates to educate the American public about what they want to do in the region. What are the broad parameters of their foreign policy toward North Africa and the Middle East? We watched the chaos. We watched the uncertainty. But in the end, we're going to have to have a conversation about how you put the pieces back together again."
"I know this next question at least is going to make me sad about what could have been," said Mika Brzezinski, "but is that what you would have said if you were the Republican nominee and, in the moments that followed the death of the Ambassador, is that how you would have moved forward and perhaps spoken publicly?"
"Well, listen," said Huntsman. "I failed, as my daughter tells me time and time again, so I'm not in a position to offer any kind of advice. But what I tried to do as a candidate and imperfectly, I have to add, was to walk people through on the foreign policy side what our interests are abroad, what our objectives should be both on the security side and the economic side, and the role of the united states in the 21st century."
He also thought this would have provided the perfect opportunity for the Romney to really come forward and give voters a look at their plan for the Middle East. At this point in the election, he continued, a candidate really knows all he ought to about policy, and it's up to the candidate to express his own vision.
Brzezinski asked Huntsman is this means he thinks Romney has nothing, a question which Hunstman answered by noting that he doesn't understand the idea of "going for the jugular" rather than responding and debating policy civilly.
Watch, courtesy of MSNBC:
Have a tip we should know? tips@mediaite.com