Millionaire Santorum Backer Foster Friess Tells Erin Burnett He's Not A Billionaire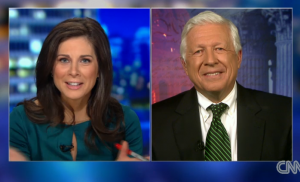 Foster Friess, the man who has gained minor fame for writing large checks to fund Rick Santorum's SuperPAC, was a guest on Wednesday's Erin Burnett OutFront, and cleared up some popular misconceptions about his role in Santorum's SuperPAC, as well as his status as a billionaire.
Burnett was one of the first people to eyeball Friess standing on stage next to Santorum following his victories in Tuesday night's caucuses. She said, after recognizing him, that she wondered if there was something fishy going on, because of rules about collusion between SuperPACs and candidates.
"I'm wondering," Burnett asked, "If you think that was appropriate… that you continue to spend so much time visibly with him? Or maybe you think that it's just transparent?"
Friess explained that the answer was simple. The lawyers told them that they just can't talk about the SuperPAC, which is fine with Friess, because all he does is write a check and then leave it to others to run the organization.
"In fact," Friess said, "Newt came up to me the other day and made some remark about one of the ads, and I said I don't even see the ads. I'm not the hands on guy. I like writing the check and I turn it over to the guys that make it happen, much like the way I ran my business. My success came up not because of my brilliance, but because [of] the people I was fortunate enough to surround myself with."
Burnett later asked about the level of Friess' success, noting that plenty of media outlets have been referring to him as a billionaire, a designation he contends.
"A few weeks back, someone called me a billionaire. My wife comes up and she says, 'Honey, you're not squirreling money away are you?' So I want to clear that up," Friess said, laughing. "They say, 'How do you want to be introduced?' And I say, 'How about billionaire wannabe?'"
The entire interview will air on OutFront at 7 p.m. Watch a clip of Burnett's interview with Friess below, courtesy of CNN:
Have a tip we should know? tips@mediaite.com