Mississippi Atty. General May Authorize Manhunt For 5 Prisoners Pardoned By Gov. Haley Barbour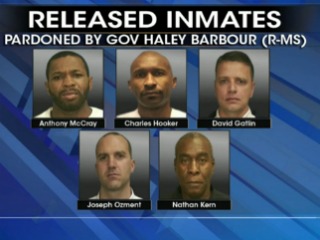 You may have heard about outgoing Mississippi governor Haley Barbour's controversial decision to pardon 208 prisoners before leaving office, five of whom, many in the state are arguing, did not meet the proper requirements needed to be eligible for pardon under Mississippi's Constitution. Now, State Attorney General Jim Hood says he may have to launch a nationwide manhunt in order to find these former inmates.
RELATED: Haley Barbour & Martin O'Malley Argue Rick Perry's 'Zero-Based' Foreign Aid Proposal
America's Newsroom brought on Fox News legal expert Catherine Herridge, who noted recent comments by Hood criticizing the way "we give the Governor of our state the powers of the king to release people."
State law did require, however, that notices be sent out to the communities impacted by each former prisoner's crime 30 days prior to their respective releases. The men have until January 23rd to show that they indeed meet the requirements for release out into the public, and they are currently required to report to the Department of Corrections every 24 hours. It's worth noting that the five had worked as trustees at the Governor's Mansion.
One of the five men in question, David Gatlin, was sentenced to life in prison in 1993 after shooting and killing his wife as she held their newborn son in her arms. He then turned his gun on a family friend, who survived the shooting. Charles Hooker, meanwhile, killed the principal of the. school where he taught. Anthony McCray was sentenced to life in prison as recently as 2001 after fatally shooting his wife in the back. Joseph Osment was sentenced to life in prison in 1993 for murder, as well as conspiracy and armed robbery. The fifth man, Nathan Kern, who had been serving a life sentence for multiple robberies.
Have a look at the report, via Fox News:
h/t Fox News Insider
Have a tip we should know? tips@mediaite.com