Mitt Romney On Rick Santorum: We've Seen What Happens When A President 'Has No Experience Running Anything'
Mitt Romney Slams Rick Santorum: 'He's Never Run Anything'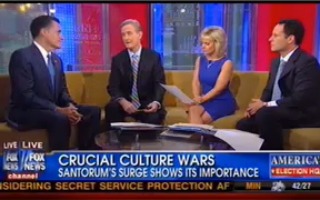 Mitt Romney visited Fox & Friends Wednesday morning, where he talked about his ongoing strategy against rival candidate Rick Santorum, who has recently come out with an attack ad dubbed "Rombo."
For Romney, the goal moving forward is to simply lay out the differences between himself and Santorum, particularly when it comes to their respective life experiences:
RELATED: Bulletproof: Why Rick Santorum Will Be Tough For Mitt Romney To Wipe Out
"You have to lay out the differences between yourself and the people you're running against," Romney explained, "and Rick Santorum and I have very different views on some issues, but in particular, very different experiences, life experiences. He worked as a lobbyist, then worked in congress, and then went back to being a lobbyist. So he's never run anything." Romney said that he ran two different businesses, the Olympics, and "a state."
"I think we've seen what happens in a country when you have a president who has no experience running anything," Romney added. "That's what we have now. I don't think it's going to be very difficult to contrast the difference between our backgrounds."
He also vowed to focus on economic issues… while still noting that, when it comes to social issues, he's had plenty of experience in dealing with "attacks" on religions, despite Santorum's position as the "social issues" candidate in this race:
RELATED: Joe Scarborough Slams Birth Control Mandate: The Catholic Church Is Being Attacked By Far Left
I'm going to continue talking about what it takes to get the economy going. I mean, I know some people want to talk about other issue, but frankly, the issue that is beneath much of what's happening in this country is the need to get our economy going again, to get people with rising incomes, gas prices lower, more people going back to work. That will continue to be there. With regards to social issues, the big issue that came out was the attack by the Obama administration on religious conscience. And that's something which happened in my state when I was Governor. If you will, the secular liberals in my state tried to get the Catholic Church to stop being able to provide adoption because they had a preference for putting kids into homes with a mom and a dad. And I worked with the Catholic Church to put in place a piece of legislation to allow the Catholic Church to stay in the adoption business. This kind of attack on religion is happening all over the country and I'm one of those that's actually not just talked about fighting it, but actually have fought it.
Romney did have one bit of unfortunate news to share, though. "under no circumstances," he told the Fox & Friends hosts, "would I ever do Dancing with the Stars."
Watch, via Fox News:
Have a tip we should know? tips@mediaite.com