Morning Joe Panel Questions Whether Obama Campaign Will Covertly Use Romney's Religion To Make Him Seem 'Weird'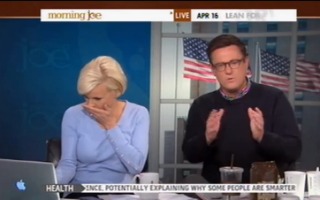 On Monday, Politico's Mike Allen told Morning Joe about the Obama campaign's plans to look into "Romney's penchant for secrecy," noting that the campaign's communications director , David Axelrod, has asked such questions as "Why did George Bush and John McCain release multiple years of tax returns, but not Mitt Romney? Why did Mitt Romney leave Massachusetts government with the hard drives from his computers, and why did his senior aides leave with the hard drives from their computers? Why won't he be more forthcoming about some of these offshore investments?"
Panelist Jon Meacham asked whether any of the focus on Romney's "secrecy" may have something to do with his faith, Mormonism, a religion shrouded in mystery for many non-Mormons. "Is this code for the secrecy of the Mormon Church?" he asked Allen.
RELATED: Fox & Friends Weekend Anchors Grill 'Anti-Mormon' Pastor Robert Jeffress Over His Flip-Flop On Romney
"As the Obama campaign makes the case that Romney is somehow weird, different," Allen replied, "some supporters of Romney will say that that is a dog whistle, that is a way to come near the religion issue. The Obama campaign will tell you they're not going to touch it, they don't poll on it, they don't talk about it in focus groups because they know that it would blow up if they did and that got public."
Host Joe Scarborough, meanwhile, was upset that he's not allowed to enter a Mormon temple. "You can't go into the temple, right? […] Not even on the West Side? You go to Salt Lake, and I'm like, 'Oh, that's pretty, I want to go in.' And they are like, 'No, you're Southern Baptist.'"
Mika Brzezinski then attempted to change the subject to the Twitter reaction she's been receiving regarding Hilary Rosen's comments about Ann Romney, calling the Tweeters "hateful, upset and filthy." …Not unlike some of the ladies he and Willie Geist dated in college, joked Scarborough.
Have a look, via MSNBC:
Have a tip we should know? tips@mediaite.com