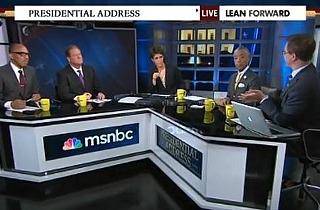 In the immediate wake of President Barack Obama's address to the nation on Tuesday night, the hosts of MSNBC appeared sympathetic to the president's call for America to act but remained unconvinced that American intervention was worthwhile. Many of the hosts did not believe that America could enforce a global norm in Syria unilaterally and without the authorization of the United Nations.

"I think it was a strong moral argument to act," Chris Matthews began. He appeared unconvinced that Obama defined how American action would ensure that chemical weapons were not used again.
Matthews said that American military action "would kill a lot of people." He added that a "unilateral attack" by the United States on the Syrian government may fail to reinforce the notion that America was defending an "international norm." Matthews insisted that no action against Syria would be legitimate if it was not sanctioned by the United Nations.
RELATED: Obama Appeals To America to Prepare for Syria Strike, but Hope for Russian Solution
"The problem is that international norms cannot be enforced by unilateral by unilateral military action of the U.S. in contravention of the United Nations charter which outlines very distinctly two appropriate lawful uses of force," Chris Hayes said in agreement with Matthews. "Direct self-defense or under U.N. Security Council."
"If you are talking about the long-term viability of this norm, which I think we all believe is important, that is not a long-term sustainable means of enforcing the norm," Hayes said.
Rachel Maddow said that this argument may already be dated because an international response could be in the offing eventually.
"And he did say we're special," Washington Post columnist Eugene Robinson added, appreciating the fact that Obama referred to America as an exceptional nation.
Watch the clip below via MSNBC:
[Photo via screen grab]
— —
> >Follow Noah Rothman (@NoahCRothman) on Twitter
Have a tip we should know? tips@mediaite.com