MSNBC Hosts Rip Congressional Dems: 'Petty' 'Children' Who 'Need a Hug' from Obama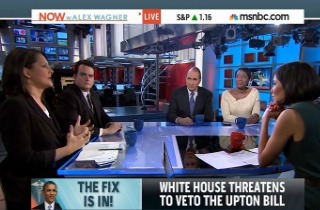 A number of MSNBC hosts and guests tore into Congressional Democrats on Friday who are openly flirting with altering the Affordable Care Act in ways that could threaten the financial stability of the program. The hosts and reporters called members of Congress "petty" "children" who "need a hug" from President Barack Obama.

Now host Alex Wagner asked NBC News reporter Luke Russert how many Democrats were expected to support Rep. Fred Upton's (R-MI) House bill which would reverse entirely the destruction of the individual insurance market.
Russert said that most Democrats are now rallying around a form of the proposal advanced by President Obama on Thursday which members are now calling "Landrieu-lite." That proposal would pursue the model proposed by Sen. Mary Landrieu (D-LA), but not indefinitely as her bill originally envisioned.
RELATED: Rothman: For Democrats, Obamacare Unfolding Like a Greek Tragedy
Russert said there could be as many as 60 but probably closer to 30 Democratic defections in the House.
"That's really where a lot of anger comes from — from House Democrats," Russert said. "They feel the president sold them out for the 2014 election."
Russert added that he believes Obama needs to shed his "insular" behavior patterns and engaging in some "outreach" to his party's nervous members. "At least call people in your own party," Russert said. "They need to feel loved. They need a hug from 1600 PA Avenue, because they feel very, very sold out."
Wagner and MSNBC's Disrupt host Karen Finney mocked and rejected the notion that Democrats feel "sold out" by the president.
"Members of Congress are children," Finney said. She called much of what members of Congress are concerned about as "petty."
"I want Democrats to get back on offense on that," Finney said. "Let's remember why we're here. We had a financial crisis where people went under. They lost their homes. Why? Most people because of their health bills."
UPDATE: Finney writes in to clarify that she was referring to Republican members of Congress specifically.
Watch the clip below via MSNBC:
[Photo via screen grab ]
— —
> >Follow Noah Rothman (@NoahCRothman) on Twitter
Have a tip we should know? tips@mediaite.com