MSNBC Reporter Forced to Apologize for Refusing to Move from Handicapped Parking for Disabled Vet Trying to Vote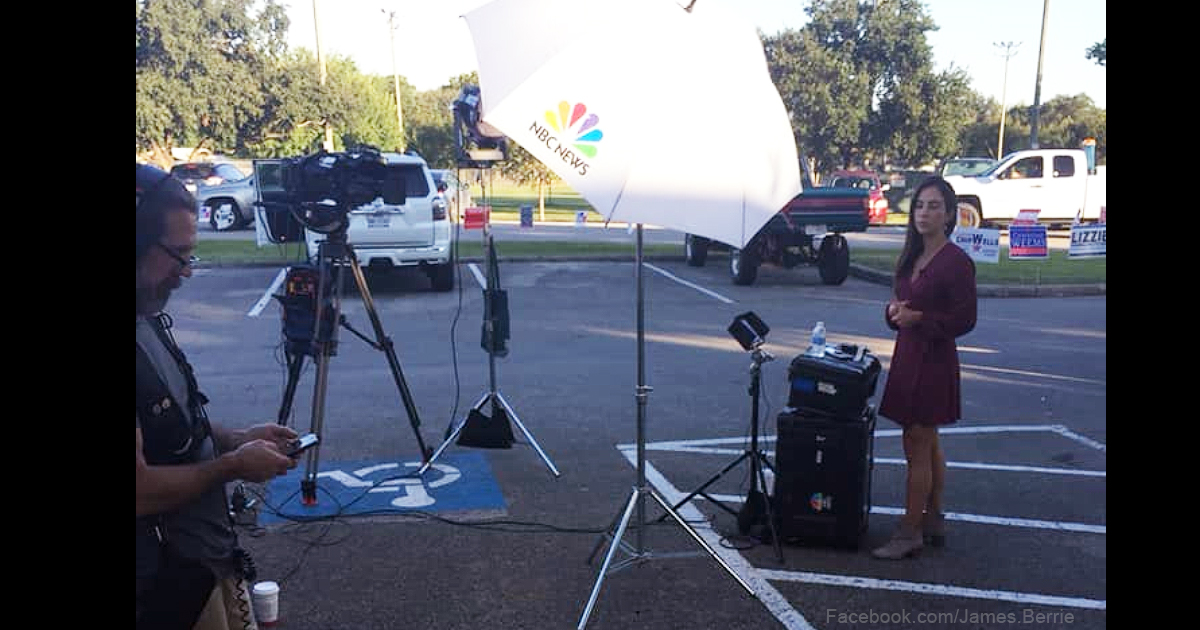 That's a headline no press outlet wants to see about one of their reporters, but exactly what MSNBC got, when disabled veteran James Berrie garnered national attention for his Facebook post calling out MSNBC's Mariana Atencio and her crew for blocking, and refusing to move from, the handicapped parking spot outside of his polling place.
"Different kind of voter suppression," said Houston resident and Air Force veteran Berrie, who has multiple sclerosis.
"Went to vote, and found this waiting for us," he wrote. "The only van accessible spot and they're filming in it. We asked them to move, pointed out how it was wrong, then went to vote, because it takes time to load up. But came out and still there. Not even packing up, still getting ready for their shot."
"This is suppression. If I couldn't park I couldn't vote. Their van had no handicap placards," he added. "This happens all the time. Handicap spots are not loading zones for gear and equipment. Figure something else out. Especially at a public event where people are going to need the spots. This is not ok, and the station needs to be made aware. All of them."
Houston CBS affiliate KHOU reported on the Facebook posting, and as The Hill notes, Berrie told the outlet that the MSNBC crew kept telling him they would move but were still there after he'd already finally found a way to go and vote.
Eventually, the CBS story lead to an apology from NBC reporter Mariana Atencio.
We made the wrong call today by using a disabled parking spot for our live shot in TX. There's no excuse. I apologize to the two people who were on their way to vote as it's one of the most important parts of our democracy; we'd never want to jeopardize anyone's ability to do so

— Mariana Atencio (@marianaatencio) October 30, 2018
On Saturday, Greta Van Susteren, formerly of both Fox News and MSNBC, brought renewed attention to the situation when she tweeted about it.
Really ⁦@MSNBC⁩ ? Handicapped spot? Not very nice…in fact, indecent. "Disabled Houston veteran: MSNBC crew blocked handicapped spots at polling place | https://t.co/FdsixOMhHH https://t.co/9TO7PaGmbZ

— Greta Van Susteren (@greta) November 3, 2018
After his Facebook post went viral, Berrie added an edit: "Thank you all for your support. This has gotten bigger than I thought, but that is a good thing. People are talking about this, having the conversation. Please keep going. If you see something, say something."
Have a tip we should know? tips@mediaite.com