MSNBC'ers Lecture White People About the 'White Privilege' They Don't Know They Benefit From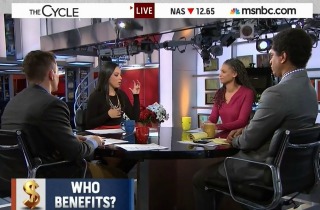 An MSNBC panel on Friday dug into the issue of "white privilege," and why so many white Americans reject or cannot recognize this concept. In a discussion about the need for an extension of long-term unemployment benefits and how that issue resonates more with minorities than white people, The Cycle panel insisted that majority privilege contrasts greatly with America's debate over the "value of black life," "with bullets."

Guest host Angela Rye began by noting that Rev. Jesse Jackson has linked the controversy surrounding remarks by Duck Dynasty star Phil Robertson to "white privilege." She added that the case of a white teenager getting a light sentence to rehabilitation in Texas for multiple vehicular homicides on the defense of "affluenza" is also indicative of this privilege.
Center for Social Inclusion President Maya Wiley circled the conversation back to unemployment benefits, noting that long-term unemployed are often minorities particularly because of a lack of adequate public transportation in urban communities.
"There are so many people who are white who are in pain that it's hard for, I think, the American public to hear 'white privilege,'" Wiley insisted. However, she noted that Robertson's comments about the black people he grew up working alongside being happier were an example of that privilege and are "unacceptable."
"Or even, on a more serious note, the fact that they say or we're questioning the value of a black life, you know, with bullets," Rye added.
Touré submitted that too many white people cannot recognize "white privilege" because they don't perceive themselves to be able to take advantage of any privilege. "That you as an individual white person are not able to utilize your white power or white privilege, doesn't mean it doesn't exist," he contended, "just like that I don't have a car doesn't mean cars don't exist."
Wiley insisted that white people's problems need to be communicated to them in order for them to understand their privilege and for all to understand why minorities need an extension of long-term unemployment benefits.
"So, black people more likely need public transportation to get a job and white people want to pay less at the gas station," she insisted.
Watch the clip below via MSNBC:
[Photo via screen grab ]
— —
> >Follow Noah Rothman (@NoahCRothman) on Twitter
Have a tip we should know? tips@mediaite.com