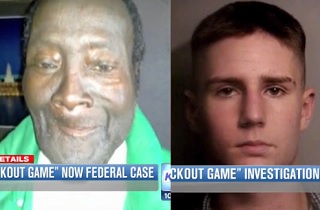 Cable news outlets have come under intense criticism over their coverage of the so-called "Knockout Game," which some critics say is overhyped, and others claim is ignoring a racial aspect to the crimes. Based on a Justice Department report, that coverage appears to have inspired 27 year-old white male Conrad Alvin Barrett to conduct a brutal media thought experiment. On November 24, Barrett allegedly assaulted a 79 year-old black man, knocking him to the ground and fracturing his jaw in two places. Videos recovered from Barrett's cellphone allegedly confirm that he selected his victim based on race, in order to see if the national media would cover the attack.
From the DOJ:
Barrett allegedly recorded himself on his cell phone attacking the man and showed the video to others.   The complaint alleges Barrett made several videos, one in which he identifies himself and another in which he makes a racial slur.   In addition, Barrett had allegedly been working up the "courage" to play the "knockout game" for approximately a week.

…According to the complaint, Barrett comments in a video that "the plan is to see if I were to hit a black person, would this be nationally televised?"
The victim suffered a broken jaw in two places, lost three teeth, and was hospitalized for four days
Some conservative outlets are already using the hate crimes charge in this case as evidence of a double-standard, even though one other such crime has already resulted in a hate crimes charge, while investigations of others have produced no evidence that race was a factor in the selection of victims. The blizzard of media attention given to these attacks, despite the fact that many of the already exceedingly rare crimes reported are not actually confirmed examples of the "Knockout Game," appears to have been a motivating factor in this attack, and the statement from Barrett's camera is the exact hypothetical that Laura Ingraham posed days before the attack, when she asked an O'Reilly Factor guest "If this were overwhelmingly white teens, and they were going around all these cities across the United States, and they were cold-cocking elderly black people, would you be coming on The O'Reilly Factor and saying 'I hate to generalize about quote bad behavior?'"
Ironically, one element of the news coverage of these attacks has been the concern that by paying so much attention to them, news outlets may actually be encouraging more of them. Based on available evidence, that premise may very well have been borne out.
The hate crime charge carries a maximum sentence of ten years in jail, and a $250,000 fine. Jed Scott, the victim's nephew, told Houston's KHOU that he hopes the suspect gets the book thrown at him. "He deserves the maximum sentence," Scott said. "He should've known better not to do that."
Here's KHOU's report on the incident:
Have a tip we should know? tips@mediaite.com