25 Sketchy Predictions: Joe Concha Breaks Out His Cloudy Crystal Ball for 2014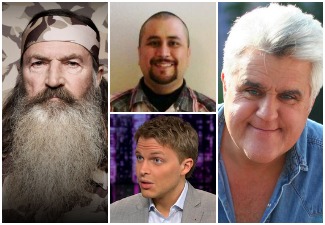 Like most people outside of Nostradamus and Nate Silver, I'm no good at this whole predictions thing if my 2012 column is any indication.
But this won't stop this guy for offering a few up…all in the name of entertainment. So without further ado, let's explore what will absolutely, positively happen in 2014:
Thanks to the albatross that is Obamacare (skyrocketing deductibles, skyrocketing premiums, increasing opposition), Republicans easily retain the House.
Republicans will barely take back the Senate (See: Care, Obama).
Again, if you're a Democrat or simply someone who loathes the GOP, these predictions should be embraced based on the past record of the author.
Ronan Farrow—who has been guaranteed a hosting role on MSNBC—will be added as a co-host of The Cycle on a rotation basis (similar to its inspiration, Fox's The Five).
Twitter's stock price breaks 100 (currently at $66/share).
Auburn will shock Florida State (currently big favorites) to win college football's National Championship. Don't mess with karma.
Duck Dynasty sees a ratings explosion for its new season starting on January 15th. Part of A&E's "suspension" includes nine new (already-taped) episodes featuring the controversial Phil Robertson, who apparently got his name in the paper a few times recently. A&E—which makes $400 million in Duck merchandise alone—signs the Robertsons (all 20 of them) to a lucrative new contract.
Justine Sacco—the now-former PR exec fired for this tweet heard 'round the world—lands on a reality show somewhere. Celebrity Apprentice, anyone?
Paula Deen begins comeback– launches a new program on a cable network in the second half of the year. Co-host includes an African-American chef (call it the Howard Stern/Robin Quivers approach, but in reverse).
Tiger Woods wins a major for the first time in six years.
American Hustle wins Best Picture. Matthew McConaughey—a long way from Failure to Launch—wins Best Actor (Dallas Buyers Club). Cate Blanchett takes Best Actress for Blue Jasmine (OK, these bets are more from a rooting aspect).
Jay Leno replaces Piers Morgan on CNN at 9:00 PM.
Jimmy Kimmel wins Round 1 of the new late night wars over Jimmy Fallon.
Bill O'Reilly lands again on New York Times bestseller list with a new book. Title includes the word "Killing" in it.
The cold weather Super Bowl is a relatively boring, low-scoring affair (I grew up 15 minutes from the Meadowlands in Jersey, so know this: Wind will make throwing the ball an adventure), with the Seahawks beating the Bengals, 17-7.
David Gregory is replaced by Chuck Todd on Meet the Press.
The Washington Redskins stay the Washington Redskins.
George Zimmerman gets arrested again…cements official O.J. 2.0 status.
Edward Snowden does not return to the United States, because…why would he?
My Chicago Cubs will not win the World Series. Yup, we're heading into bold territory now…
Toronto Mayor Rob Ford wins reelection in October.
Blackberry is administered last rites.
Hillary Clinton announces absolutely nothing regarding her future plans (nor should she).
Chris Christie sheds another 30 pounds, bringing his reported loss total to 100. Fat jokes continue regardless.
At least every 7-12 days, a public figure (celebrity, athlete, journalist, politician) will tweet out something that forces a groveling apology, resignation or firing (or an apology that still results in one of the two).
On December 31, 2014, a comprehensive review shows at least 82 percent of the aforementioned predictions do not come to fruition…writer vows to do another one for 2015 anyway.
Happy New Year!
— —
>>Follow Joe Concha on Twitter @ConchaMedia
Have a tip we should know? tips@mediaite.com