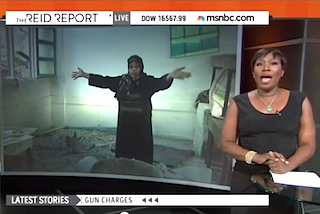 This week, MSNBC's Joy Reid looked at the number of reported deaths in Palestine and equated it to "the population equivalent to 100 9/11s." While Israel has been consistent in its framing of Hamas as a "terrorist" organization, Reid appeared to be saying that it was Israel's actions that more resemble "terrorism."
As for how Reid arrived at the "100 9/11s" formulation, you need only to look at the respective populations of the United States and Gaza. If approximately 3,000 out of 300 million Americans were killed in the September 11th, 2001 attacks, that is 0.001% of the total population. For Gaza, an estimated 1,800 killed out of a total 1.8 million people equals 0.1% of the total population. And just like that, Israel's war with Gaza is the "population equivalent to 100 9/11's."
Reid remarked that the 1,800 killed in Gaza are "mostly civilians, including women and hundreds of children." According to the United Nations, of 1,814 Palestinians killed, 1,312 (or 72%) are civilians. Of those, 408 are children and 214 are women.
After Israeli newspaper Haaretz featured Reid's comments on its website, the host was attacked with a barrage of messages on Twitter questioning her analogy:
MSNBC (@JoyAnnReid) says Israeli attacks (in a war) equalto "100 9/11's". How can anyone with half a brain even consider saying that?!

— Justice Powers (@JusticePowers) August 6, 2014
@JoyAnnReid @msnbc "Gaza equivalent of '100 9/11's'" 1) She needs a new calculator 2) Remind me when the WTC fired 2K missiles at Al Qaeda.

— K F D C (@K_F_DC) August 6, 2014
.@JoyAnnReid 3,000 Americans died on 9/11 with $10B in property damage. How is 1,800 Palestinian casualties "100 times worse than that?"

— Hootyman (@TheHootyman) August 6, 2014
@JoyAnnReid Speaking of disingenuous – Israel committed "100 9/11's" in Gaza? Outrageous, disingenuous and irresponsible in myriad ways

— Doug Holland (@CompGuy1) August 6, 2014
While some may bristle at Reid's efforts to draw parallels between a weeks-long war in which both sides are actively fighting with missiles and rockets, her math isn't technically wrong.
Watch video below, via MSNBC:
[Photo via screengrab]
— —
>> Follow Matt Wilstein (@TheMattWilstein) on Twitter
Have a tip we should know? tips@mediaite.com