MSNBC's Krystal Ball: GOP Hopes You 'Die an Agonizing and Unnecessary Death' to Embarrass Obama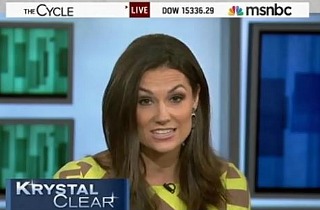 On Tuesday, MSNBC host Krystal Ball said that Congressional Republicans who are forcing a showdown in the U.S. Senate over the funding of the Affordable Care Act have embraced a losing cause that will hurt average Americans. She said that the GOP would be happy to see young uninsured people "die an agonizing and unnecessary death" as long as it results in a political setback for President Barack Obama.

Ball began by noting that she believes the Republicans in Congress are hypocritically opposing the Affordable Care Act because the conservative Heritage Foundation originally submitted the idea for an individual mandate in the 1990s.
She added that the GOP has passed on the chance to modify Obamacare and many Republican governors chose not to implement health care exchanges in their states. "Odd," she observed.
RELATED: 'Until I Am No Longer Able to Stand': Ted Cruz Begins Anti-Obamacare 'Filibuster'
Finally, she played a portion of an ad aimed at young people which warns them of the intrusion of the federal government into their health care decisions.
"The GOP is saying to young people, 'We would like to have the government stick an unnecessary transvaginal probe if you want an abortion, but when it comes to health insurance, don't take any government help,'" Ball said. "'Don't go to the state or federal government operated insurance exchanges to buy private insurance. Stay away.'"
"Stay uninsured. Skip that pap smear. Skip that tetanus shot. Skip that prenatal care. Skip that cholesterol test," she continued. "And if you die an agonizing and unnecessary death, one that could have been prevented by the health insurance reform that bears the president's name, at least you know your death will not have been in vain."
"You will have died to serve the noble and patriotic cause of hurting this president and denying him a victory," Ball added.
"They would sacrifice the lives of young people if it helped them score political points," she declared. "That is not conservative. It is a national disgrace."
Watch the segment below via MSNBC:
[Photo via screen grab ]
— —
> >Follow Noah Rothman (@NoahCRothman) on Twitter
Have a tip we should know? tips@mediaite.com