MSNBC's Lawrence O'Donnell Thanks GOP Sen. Coburn For 'Scoring A Point For Civility'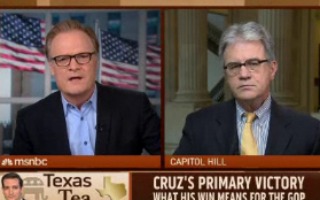 Senator Tom Coburn appeared on Thursday's Morning Joe, where he weighed in on Ted Cruz's recent win and the state of the Tea Party and… received a heartfelt compliment from MSNBC's Lawrence O'Donnell. We're really not used to so much civility in the morning.
After Coburn offered his very positive take on Ted Cruz, O'Donnell broke in to offer Coburn a compliment and his sincere praise for having apologized for comments he'd made regarding Senate Majority Leader Harry Reid. O'Donnell described the moment as "someone scoring a point for civility."
"Well, I'm not afraid to admit when I'm wrong," said Coburn. "I get out in front of myself. I'm 64 years of age. I guess I always will a little bit every now and then make mistakes in terms of my words. I mean, I don't mind apologizing. I don't know anybody — even talk show hosts — that don't make errors every now and then." (O'Donnell has made only about one, the host joked.)
Coburn also took an opportunity to tout Tea Party members as kind people who have gotten a bad, incorrect rap in the media.
Panelist Jonathan Capehart then asked the Senator to "please tell me how and when did we abandon the Constitution." Coburn responded by noting that the Constitution is "loaded with no's," and that the federal government has over the years expanded outside the range envisioned by the country's founders.
Later, Sam Stein asked whether Coburn believes his GOP colleagues like John McCain and Lindsey Graham aren't "getting the Tea Party mojo" when it comes to the issue of cutting the defense budget. Coburn responded by saying that Stein had mixed up two, distinct groups: Republicans and the Tea Party. ("No, no, no, no," Stein replied.)
"I can find the fat in the Pentagon," he added, noting that others within the GOP are "just not willing to do it" because "they don't believe it's there."
Have a look, courtesy of MSNBC:
Have a tip we should know? tips@mediaite.com