NAACP's Julian Bond: 'Simplistic,' 'Idiotic' To Think Black President Makes Affirmative Action Unnecessary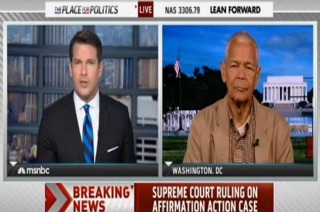 On Monday, The Supreme Court sent back to a lower court a case relating to the constitutionality of affirmative action programs in universities. Julian Bond, the chairman emeritus of the National Association for the Advancement of Colored People, told MSNBC anchor Thomas Roberts that some probably believe that affirmative action is no longer necessary due to the election of Barack Obama as the nation's first black president. He called this notion "simplistic and idiotic."

"Obviously, these colleges are going to say we have to use race if we're going to have a diverse student body," Bond said when asked to share his thoughts on the Court's ruling.
"There is no alternative to some kind of race test in affirmative action," he continued. "If you want to get beyond race, as someone once said, you have to get to race. And if you want to have a diverse student body at the University of Texas, or other schools around the country, you've got to have a race-based formula."
RELATED: NAACP Chair Emeritus: 'Legitimate' For IRS To Target 'Admittedly Racist' Tea Party: 'Taliban Wing' Of Politics
Roberts cited polling that showed that affirmative action programs are polling at an "all-time low" and asked Bond if he thought there was a feeling that those programs are no longer necessary. Bond attributed that sentiment to Obama's election.
"People say, 'We've elected a black president, race must not be a problem anymore," Bond said. "Well, that's simplistic and idiotic. Race is a major problem in this country. It is a daily problem. But, nonetheless, enormous numbers of Americans think 'We've got a black president, what's the big deal?'"
Bond added that "race" should not be a "determining factor" for how people get into college or get jobs.
He concluded by noting that the prosecution of George Zimmerman for the murder of Tryavon Martin is representative of racial issues in America. "If that's not about race, what is it about?" Bond concluded.
Watch the clip below via MSNBC:
> >Follow Noah Rothman (@NoahCRothman) on Twitter
Have a tip we should know? tips@mediaite.com