Napolitano: 'Utter Nonsense' That POTUS Didn't Know About Petraeus Affair Until Election Day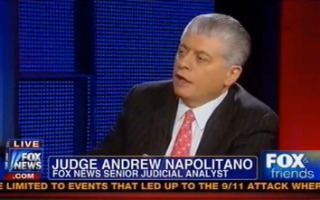 Judge Andrew Napolitano stopped by Fox & Friends on Thursday morning to discuss when and how much higher-ups in government actually knew about General David Petraeus' indiscretions.
"Someone obviously wanted to silence General Petraeus," said the Judge. "Someone wanted to get him out of the job for a private, personal behavior that has never dislodged high-ranking government official in the past." He added that, back when Petraeus was commanding troops in Afghanistan, it was "known and whispered about" that he had been spending a lot of time with and possibly growing too close to his biographer, Paula Broadwell. Then, before he was nominated to the CIA, Petraeus had to undergo an incredibly extensive two-month FBI background check. "I know how thorough it is," said Napolitano. "One of the things they would have done was, 'Let's see your visitor logs, General. Let's see everybody that visited you in the time that you were commander in the time in Afghanistan. Let's interview all of those people.'" Their findings, he explained, would have been reported to the President and then to the Senate Intelligence Committee, so "it is utter nonsense that the President didn't know about this until 5 p.m. on election day."
"Who was out to silence David Petraeus?" asked Steve Doocy.
It was, replied Napolitano "either the White House itself, because it didn't want him to say what he knows because it would contradict what he told the Senate and the House Intelligence Committees on September 14th, or it was members of the intelligence community itself, who have not been unknown to do things like this when they believe a leader is not fulfilling the mission as they think he should be."
Watch, via Fox News:
Have a tip we should know? tips@mediaite.com