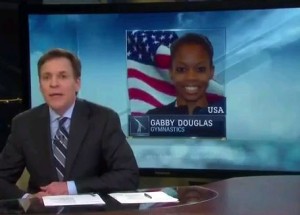 One of NBC's new fall shows is Animal Practice, a show about doctors, animals, and the hilarious hijinks they will surely get into on a weekly basis. One of the stars of the show is a little monkey, and as a tie-in for its Olympics coverage, NBC is airing a promo for the show featuring the monkey as a gymnast. Last night, the promo aired right after Bob Costas remarked that gymnast Gabby Douglas winning the gold medal would inspire young African-American girls, and NBC is now apologizing and denying any offense was meant in airing the monkey ad.
RELATED: Dilbert Creator Scott Adams Defends Republican Official's Obama Chimp Email
NBC was planning on having the gymnastics-themed ad airing right after the gymnastics-heavy segment, according to the Associated Press. The AP deals how the situation unfolded.
"Much of America has fallen in love with Gabby Douglas," Costas said. "Also safe to say that there are some young African-American girls out there who tonight are saying to themselves, 'Hey, I'd like to try that, too.'"

Then NBC switched to the commercial with the small, widely grinning monkey on the rings. Blacks in the past have been disparagingly referred to as monkeys to the point where it is considered a common slur.

"Gabby Douglas' gold medal performance last night was an historic and inspiring achievement," NBC Universal spokeswoman Liz Fischer said. "The spot promoting 'Animal Practice,' which has run three times previously, is one in a series with an Olympic theme, which have been scheduled for maximum exposure. Certainly no offense was intended."
NBC must now be wishing people would go back to getting angry over the tape delays.
Watch the cutaway below, courtesy of NBC:
h/t NewsMax
—–
Follow Josh Feldman on Twitter: @feldmaniac
Have a tip we should know? tips@mediaite.com
Josh Feldman - Senior Editor