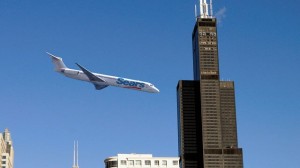 People tend to appreciate dark humor in varying degrees, whether it is jokes about rape, murder, or even horrible tragedy. The Onion has been willing to cross every line there is, including a particularly attention-grabbing story last year about members of Congress holding a group of schoolchildren hostage until the national debt is paid down in full. Now it appears they've done it again with a quick joke in a Week in Review video featuring a plane about to hit the Willis Tower in Chicago, with the narrator saying, "Sears extremists fly a plane into Willis Tower."
RELATED: Funny Or Die: Twitter Explodes With Debate Over The Onion Congressional Hostage Satire
The Onion posted the image of the plane, along with the caption, to its Facebook page. The post has currently gotten almost 4000 comments, with many people saying that the satirical news source has finally gone too far. Comparisons were instantly drawn to 9/11, and New Yorkers did not exactly have a good reaction to that. Here's how Onion marketing director Grant Jones defended the piece in an e-mail:
In response to questions about the criticism and using such an image, The Onion marketing director Grant Jones stuck with the newspaper's tone. He wrote in an email that, "9-11 must never be the fodder for jokes. Perhaps you didn't see the news that humor died after 9-11."

Jones called the blurb "a very important story," then added: "We're surprised other major news sources are not giving it the coverage it deserves."
Every time something like this happens, and people say they are offended by some comedian or piece of satire for being too inappropriate, I wonder exactly what the end game is. Should The Onion apologize for the image? Should some third party punish them? Should we all, as a people, sign a contract agreeing what subjects should and should not be made into jokes?
The Onion understands nuance. On the day of the Colorado shootings, their two big articles about it were a mock piece about the NRA and a piece on Warner Bros. worrying about ticket sales of The Dark Knight Rises. In neither of those cases was the shooting itself the subject of the joke, and in this case, 9/11 was not the joke.
Earlier today, The Onion put out an article saying that Michael Phelps drowned during today's race. Are they laughing at the idea of a man's death by drowning? No, it's an ironic twist on people's expectations. I don't think the Willis Tower piece was particularly funny, but it is in keeping with the great tradition of The Onion's willingness to push all the right limits.
—–
Follow Josh Feldman on Twitter: @feldmaniac
Have a tip we should know? tips@mediaite.com
Josh Feldman - Senior Editor