Newly Uncovered E-Mails Undermine White House Claim It Never Denied Access To Fox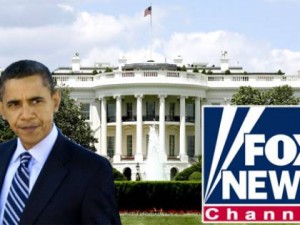 New light is being shed on an old but hardly forgotten "war" between the White House and Fox News Channel. Judicial Watch, which oddly describes itself as a "conservative non-partisan" educational foundation, filed a Freedom of Information Act request and has now obtained e-mails from the White House that Judicial Watch says reveal that staffers specifically sought to exclude Fox News from interviewing an administration official, despite public statements from the White House at the time that such an action was merely "a mistake."
In October 2009, the Department of Treasury made "Executive Pay Czar" Kenneth Feinberg available for interviews, but for reasons that have been somewhat unclear, Fox News was not included in an opportunity to interview Feinberg along with other reporters, though Fox News White House reporter at the time, Major Garrett, later revealed that no specific request was ever made. After a backlash by the other news networks, Fox News was welcomed to interview Feinberg. At the time the White House denied any anti-Fox News agenda. However, now these uncovered e-mails appear to reveal an effort was made by White House staffers to keep Fox News away during that time period and evidence what Judicial Watch President Tom Fitton describes as a "pervasive anti-Fox bias in the Obama White House."
While White House supporters may claim that there is no "smoking gun" within the tranche of recently released emails, but some of the highlights include an e-mail between Dag Vega, Director of Broadcast Media on the White House staff, to Jenni LeCompte, then-Assistant Secretary for Public Affairs in the Treasury Department, suggesting "we'd prefer if you skip Fox please."
Perhaps more damning, in another e-mail, Jennifer Psaki, Deputy White House Communications Director writes to LeCompte, "I am putting some dead fish in the fox cubby – just cause," and later she also wrote "Brett Baier just did a stupid piece on [the exclusion of Fox News from the pool interview] — but he is a lunatic."
And in another damaging e-mail from Deputy White House Press Secretary Josh Earnest to LeCompte, Earnest boasts "we've demonstrated our willingness and ability to exclude Fox News from significant interviews."
The emails also reveal that pressure from Mediaite's Tommy Christopher was instrumental in Treasury's decision to address the story, after they initially thought it would die down. In one email, Treasury spokesperson Erika Gudmundson expressed displeasure with a story by then-Mediaite TV Editor Steve Krakauer, and noted, "Not penned by (Tommy Christopher) though. He just called but I'm ignoring."
LeCompte responded, "I still think better not to wade in with anything more to fan the flames, although facts (in Krakauer's story) are terribly askew and annoying." Editor's note – we stand by Krakauer and Christopher's reporting of this story.
Later that day, though, the Treasury Dept. did issue a statement to Christopher, after noting, internally, "I fear this is gaining a bit of steam. Christina (Bellantoni) from TPM <portion redacted> and Tommy Christopher is calling back to back now."
During the time that this feud was brewing, there was much speculation behind why there was such animosity between the White House and Fox News, with even some in the administration publicly declaring no one should pretend Fox is even a news network. Today at the White House press briefing Jay Carney was asked about these new details by Fox News' Mike Emanuel: (Transcript via email from The White House)
MIKE EMANUEL: Judicial Watch, the watchdog group, has obtained some emails from the administration about an October 2009 incident about whether or not FOX News would get an interview with Ken Feinberg, then the executive pay czar.  And publicly, the administration was saying that FOX was not excluded.  The emails seemed to suggest that FOX was perhaps punished and was excluded.  Has the administration concluded there was any inappropriate activity there?

MR. CARNEY:  Well, Mike, first of all, let me address a serious matter here, that I can say, having looked into this matter, that no one at the White House, either a current or former employee, ever placed a dead fish in the FOX News cubbyhole, which I know is a suggestion.  (Laughter.)  I can also say that it is well known that at the time there was a dispute between FOX News and its coverage and the White House and its feelings about the coverage.  I mean, that was then, and we obviously deal with FOX News regularly.  I call on you regularly.  We give interviews to FOX News, including to Bill O'Reilly.  But beyond that, I don't really know much about it.

Q    As a matter of policy, if there's a pool event, should it be open to all networks?

MR. CARNEY:  As a matter of policy?  I'll have to look at — I didn't read that part of the policy manual.  Isn't a pooled event when one network pools for the rest?  I feel like I'm getting caught in a trick question.  And since I wasn't here for that part of it, I'll have to examine that, Mike.

Q    Well, if you were going to arrange for a pooled interview with a senior administration official, would you assume that all the standard networks would be included?

MR. CARNEY:  Again, I'd have to look at what the policy standards are.  But my point, Mike, is that we regularly engage with every network and every news organization here, including FOX, and give interviews to FOX, and respect the reporters at FOX who are reporters and do their job.
Following the briefing, Tommy Christopher tried to clarify the email from Dag Vega, but a spokesman said they had nothing to add to Carney's remarks.
Check out the report from Judicial Watch.
Have a tip we should know? tips@mediaite.com