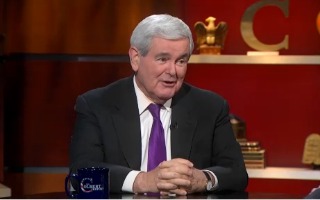 Former House Speaker Newt Gingrich stopped by the Colbert Report Tuesday night, where he lamented having missed Ham Rove's memorable-if-brief appearance on the show the night before. Gingrich, you see, had wanted to ask Ham to impart some kernels (or… ham… globules?) of campaign wisdom. Host Stephen Colbert explained that Ham had been eaten by dogs, but that Karl Rove's advice is "just as good."
RELATED: Stephen Colbert Tries To Pin Massive Super PAC Spending On Jon Stewart, A Ham
Gingrich noted that he prefers Ham Rove.
#DRAMA #ALERT
Talk soon turned to Gingrich's new book, which, as it turns out, he'd been writing during the GOP primaries. Colbert wondered whether this meant Gingrich slacked off on the book or on his campaign, because "you can't do two things that well."
"I didn't," Gingrich acknowledged.
Later, Gingrich marveled at this being a country in which anyone from"anywhere on the planet" can come and "learn to be American." Anywhere… like our future moon base?
As for the election, Gingrich hilariously admitted that he'd realized that his prediction of Romney winning in the landslide was wrong at some point on election night. He holds out hope, however, for his party's ability to reflect and do better and also believes that Super PACs ultimately hurt the democratic process, culminating in an extremely absurd reality show known as Billionaire Fight.
Here's Part 1, via Comedy Central:
And here's Part 2:
Have a tip we should know? tips@mediaite.com