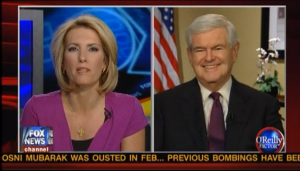 Sitting in for Bill O'Reilly Thursday night, Laura Ingraham conducted an interview with GOP presidential hopeful Newt Gingrich about this week's GOP debate.
(You might remember that, earlier this week on her radio show, Ingraham told guest Ann Coulter that Gingrich is pretty much the only candidate who "consistently gets crowds excited and brings people to their feet.")
RELATED: Ann Coulter: The Liberal Media Will Stop At Nothing To Screw Up The Republican Primary
Ingraham kicked things off by asking if there had been tension between Gingrich and debate moderator Maria Bartiromo.
"I thought she was fair overall," Gingrich shrugged:
I wasn't trying to be involved in a fight with her, but I do think it's important to recognize that the real audience is not the news media, and it's not the other candidates. It's the American people. And the American people deserve a full and clear conversation. And sometimes, frankly, that does involve the news media, which is a major player in how the country sees itself and how the country talks to itself.
Later, Gingrich — rather interestingly — mentioned that this campaign has shown that some people are able to garner a lot of money, but can't buy themselves a good debate performance, while others may not have massive contributions to their name, but have managed to make an impression through their debate performances.
RELATED: At GOP Debate, Rick Perry Can't Remember Third Agency He Would End As President
Moving on to Rick Perry's gaffe during the debate (you know how the media works, Newt)… Gingrich said he is "very sympathetic" to Perry, whom he called a "very smart man:"
My heart goes out to him. I wasn't gloating at that point; I was thinking, "Wow, that could have happened to any one of us."
What Perry has to do now, he advised, is get back out there, preferably in the form of town hall meetings that will allow him to answer voters' questions without any sort of intermediary or buffer.
Have a look, from Fox News:
Have a tip we should know? tips@mediaite.com