NRA-Endorsed Sen. Joe Manchin Urges Action On Gun Laws: 'Everything Has To Be On The Table'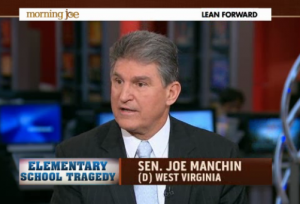 NRA A-rated member and West Virginia Sen. Joe Manchin (D) called for a "common sense" discussion about gun control during an appearance on Morning Joe on Monday. "Anyone saying they don't want to talk and sit down and have that type of discussion is wrong," he said.
"I just came with my family from deer hunting," Manchin said. "I've never had more than three shells in a clip. Sometimes you don't get more than one shot anyway at a deer. You know, this is common sense. It's time to move beyond rhetoric. We need to sit down and have a common sense discussion and move in a reasonable way."
"Everything should be on the table," he said, noting that the NRA should be involved in the discussion as well. "I want to call all our friends in the NRA, sit down and have this discussion. Bring them into it. They have to be at the table. We all have to."
"I don't know anyone in the hunting or sporting arena that goes out with an assault rifle," he said. "I don't know anybody that needs 30 rounds in the clip to go hunting. I mean, these are things that need to be talked about."
But it's not just about gun control, he said. "It's about how we treat people with mental illness, how we intervene, how we give them the care they need, how we protect our schools."
"I think opening up and seeing a massacre like this, of innocent children, it's changed things," Manchin said. "It's changed America."
The NRA endorsed Manchin in October 2012. On Sunday's Meet the Press, David Gregory said all 31 senators with an "A" rating from the NRA declined to appear on the show. A spokesperson for Manchin told the Huffington Post that their office had no record of the show reaching out for an interview.
Watch below, via MSNBC:

Visit NBCNews.com for breaking news, world news, and news about the economy
Have a tip we should know? tips@mediaite.com