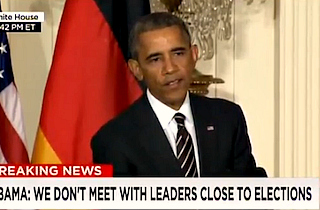 Speaking at a White House press conference with German Prime Minister Angela Merkel, President Barack Obama addressed the geopolitical grade school dustup between the White House, House Speaker John Boehner (R-OH), and Israeli Prime Minister Benjamin Netanyahu.
Last month Boehner invited Bibi to address Congress on the subject of ongoing negotiations over Iran's nuclear program, but did so without coordinating first with the White House. That was considered a major breach of protocol that the Democrats are returning by threatening to boycott the Israeli leader's speech.
Obama said Monday that the U.S.-Israeli relationship was too important to become partisanized.
"The U.S.-Israeli relationship is not about a particular party," Obama said. "This isn't a relationship founded on affinity between the Labor Party and the Democratic Party or the Likud and Republican Party…The way to preserve that is to make sure it doesn't get clouded with what could be perceived as partisan politics."
"I don't want to be coy — the Prime Minister and I have a real difference around Iran sanctions," Obama continued. "[But] it does not make sense to sour the negotiations a month or two before they're about to be completed."
Obama said the only reason not to play out the negotiations are if certain lawmakers have predetermined that they can't be accomplished. He did not address the possibility of a Democratic boycott of the speech.
Watch the clip below, via :
[Image via screengrab]
——
>> Follow Evan McMurry (@evanmcmurry) on Twitter
Have a tip we should know? tips@mediaite.com