Obama On Libya: 'Pursuit Of Human Dignity Is Far Stronger Than Any Dictator'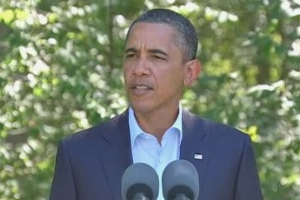 President Obama spoke publicly today about the war in Libya, declaring that "the Gaddafi regime is coming to an end, and the future of Libya is in the hands of its people."
The president spoke of the "joyful longing for human freedom" when Libyans began protesting six months ago and the large coalition of nations that worked with the United States to intervene militarily in the African nation intended to "stop Gaddafi's forces in their tracks." He described the events of the last few days as a "tipping point," where the rebels were able to advance on Tripoli and deliver a huge blow to Gaddafi's power in the region.
"The celebrations that we've seen in the streets of Libya shows that the pursuit of human dignity is far stronger than any dictator."
Echoing similar statements made by U.N. Secretary Ban Ki-Moon earlier today, President Obama called for a "peaceful, inclusive, and just" transition of government in the region, stating that justice is not borne in violence, but "reconciliation, and a Libya that allows its citizens to choose their own destiny." He also emphasized the importance of the Transitional National Council, Libya's interim government, in shaping the future of the country.
He singled out the Libyan people for their struggle for freedom and dignity, and cited the successes of the military campaign as a victory for the coalition forces.
"The Libyan intervention demonstrates what the international community can achieve when we stand together as one."
Watch the president's full address below, courtesy of NBC News:
Have a tip we should know? tips@mediaite.com
Josh Feldman - Senior Editor