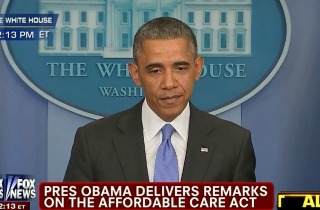 During a press conference announcing administrative fixes to the Affordable Care Act, President Barack Obama admitted that his administration has "fumbled" the roll-out of his signature health care reform achievement. "That's on me," Obama told the White House press corps.

When asked by Associated Press reporter Julie Pace if his misleading statements about who would be able to keep their insurance plans after the ACA was implemented had created a trust deficit, Obama conceded that they had.
"I understand why folks are frustrated," Obama said of the mass cancellations of health insurance plans and the failing federal insurance exchange website. "I would be, too."
"Regardless of what Congress does, ultimately I'm the President of the United States and they expect me to do something about it," Obama continued.
Obama said that he expected to have to work to win back the public trust.
"That's on me," he said. "We fumbled the roll-out on this health care law."
Obama went on to say that there are a number of elements of the ACA that are working well "which people didn't notice because they weren't controversial." He said allowing young people to remain on their parents' insurance plans and providing senior citizens with access to prescription drugs were among those success stories.
He said, however that he knew the roll-out of the insurance exchanges would be "complicated."
"We should have done a better job of getting that right on day one, not on day 28 or on day 40," Obama added. "I am confident that by the time we look back on this next year that people are going to say, 'This is working well and it's helping a lot of people.'"
Watch the clip below via Fox News Channel:
[Photo via screen grab ]
— —
> >Follow Noah Rothman (@NoahCRothman) on Twitter
Have a tip we should know? [email protected]