Obama's Perpetual Campaign: When Will The Nation Tire Of Not Having An Executive In The White House?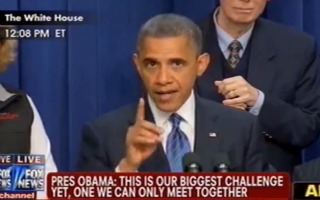 With a dire fiscal crisis bearing down on the nation and the need for closed-door negotiations and face-saving compromises for squeezed members of Congress never more apparent, President Barack Obama has embarked on yet another political campaign. This time, he is agitating for public support for increased tax rates on the nation's high-income earners as part of a comprehensive resolution to the fiscal cliff. But higher tax rates is the only policy prescription the president campaigned on in 2012 – if he has any mandate whatsoever from his victory, it is for higher taxes. Why then does Obama have to mount yet another campaign? For one, the path of stump speeches and pushing hash tags on Twitter is far easier than acting as a sober and authoritative executive behind closed doors.

Obama's perpetual campaign has begun to assume some familiar characteristics. The president has already mobilized a tread worn social media campaign and will hit the road to stump Philadelphia and it's collar counties in Pennsylvania. Surely, the president hopes those rallies will dominate the airwaves and increase public pressure on Republicans.
The White House applied similar tactics when they sought to extend the payroll tax cut and raise the debt ceiling limit in 2011.
Campaigning is comfortable territory for politicians and it is an especially cozy place for President Obama to occupy – he is an extraordinary campaigner and has spent the majority of his political career on the trail seeking one or the other public office. But is this an effective tool for governing? One need only look at Obama's accomplishments in his first term to determine that it is not.
The president did not need to campaign to pass the stimulus act – his party's electoral mandate after the 2008 elections was broad enough and the financial crisis so dire that virtually any measure the president advocated for would have been passed. The president did, however, need to push hard to pass his health care reform law – a program which remains deeply unpopular and whose future is forever in doubt.
The only reassurance that Democrats who support the Affordable Care Act have that the law will not be repealed (more likely, dramatically amended) by a future Republican administration or GOP-dominated Congress is that broad entitlement programs is rarely repealed after it is fully enacted because vulnerable members of the public become dependent on those programs. Those who hold this view cite the legislative accomplishments of President Lyndon Johnson's "Great Society" to support this thesis. But Democrats who idolize Johnson and seek parallels between the 36th president and the 44th have few to choose from.
Johnson was a famously passionate negotiator and a dogged pursuer of legislative compromise – so long as ultimate goals were agreed to at the end of the day. The tails of his tireless efforts to strike deals between members of his party and Republicans in Congress (some of whom he had better relationships with) remain legendary.
Numerous accounts, notably those of reporter Bob Woodward in The Price of Politics, suggest that Obama is more likely to alienate his opponents in a tense negotiation than to win them over. Woodward noted that Vice President Joe Biden was the administration's link to Republican members of Congress when several debt reduction commissions were convened in Obama's first term. Given the vice president's demeanor during the 2012 campaign, and his concerns for his own political future, it is unlikely that Biden can serve in such a role in Obama's second term.
An executive in the White House would not attempt to strike compromise by directing his supporters to harangue his Congressional opposition through Facebook posts and Twitter-based guilt trips. Such tactics are impediments to real compromise, but these are the tools of Obama's first resort.
Republicans have signaled their willingness to compromise by increasing tax rates on high earners and Democrats have begun to see the light on the need for dramatic reforms to entitlement programs. But the willingness to compromise does not automatically translate into a forthcoming bargain. The president seems set on making the political environment toxic and to make compromise less likely in order to secure the notion that he won a mandate in November.
Obama may yet achieve an advantageous compromise or even complete capitulation from Republicans, though the president's endless appeals for public support for his various legislative priorities redounded to the Republican's benefit during his first term. But regardless of who "wins," political comity in Washington and nationally must suffer from Obama's perpetual campaign.
> >Follow Noah Rothman (@Noah_C_Rothman) on Twitter
Have a tip we should know? tips@mediaite.com