Ohio Attorney General: 'Mainstream Media' Handled Steubenville Rape Case 'Very Responsibly'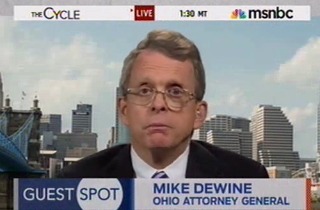 This month, two young men in Steubenville, Ohio, were convicted of the rape of a minor. The media came under fire in the wake of that conviction when some reporters were accused of displaying a measure of sympathy for the convicted rapists. Appearing on MSNBC's The Cycle on Wednesday, Ohio's Attorney General Mike DeWine was asked about the media's reaction to that case. DeWine said that the professional news media handled the case "very responsibly," and it was the reaction on social media that was irresponsible.

RELATED: Our Awful Rape Culture Is Real, But CNN's Poppy Harlow Was Not 'Sympathizing' With Steubenville Rapists
"It was incredibly emotional — incredibly difficult even for an outsider like me to watch what happened as these two young men that had such promising futures, star football players, very good students, literally watched as they believe their life fell apart," said CNN reporter Poppy Harlow immediately following the conviction of the two high school-age rapists.
This and other comments by members of the press in the wake of that conviction prompted a significant backlash against what some saw as an excessive display of sympathy for the convicted criminals rather than the victim of their crime.
On Wednesday, MSNBC's hosts asked DeWine for his reaction to the controversy.
"What was it about this case – about Steubenville, perhaps – that engendered that kind of reaction, that kind of sympathy for these guys?" asked S.E. Cupp.
"I think the mainstream media has handled this very responsibly," DeWine replied. "I think where you've had the irresponsibility is in the social media. We have a victim who continues to be victimized by people who put stuff up on the internet, Facebook, et cetera, that are very hurtful to her and her family. So, I want to make that distinction."
DeWine said that the scene of the courtroom after the conviction was "very emotional," but it was clear to most observers that "justice was done."
Watch the clip below via MSNBC:
> >Follow Noah Rothman (@NoahCRothman) on Twitter
Have a tip we should know? tips@mediaite.com