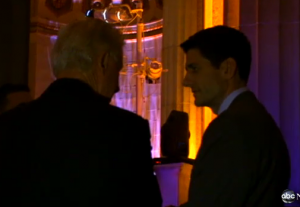 ABC News' Jonathan Karl was with Wisconsin Congressman Paul Ryan today, catching an impromptu meeting between Ryan and former President Bill Clinton. Clinton had just spoken to an audience at a forum on the national debt held by the Pete Peterson Foundation, and he told Ryan what he'd said about yesterday's special election in New York–with a Democrat emerging as the winner in a solidly Republican district–which has been seen as a repudiation of Ryan's Medicare plan. "So anyway, I told them before you got here, I said I'm glad we won this race in New York," Clinton said, adding "I hope Democrats don't use this as an excuse to do nothing."
Ryan told Clinton he's concerned the election results will freeze action on spending. He asked Clinton for help:
"My guess is it's going to sink into paralysis is what's going to happen. And you know the math. It's just, I mean, we knew we were putting ourselves out there. You gotta start this. You gotta get out there. You gotta get this thing moving," Ryan said.

Clinton told Ryan that if he ever wanted to talk about it, he should "give me a call." Ryan said he would.
ABC reports Clinton had tied the New York election to Medicare in his public remarks, but said a voter rejection of Ryan's plan was not an excuse to do nothing:
"It was about Medicare," Clinton said during a speech to the debt forum minutes before he met Ryan back stage. Clinton was referring to Ryan's controversial budget plan, passed by the House this year, which wouldtransform Medicare for those under the age of 55.

"You shouldn't draw the conclusion that the New York race means that nobody can do anything solve the rising Medicare costs," said during his speech. "I just don't agree with that. I think you should draw the conclusion that the people made a judgment that this proposal in the Republican is not the right one. I agree with that, but I'm afraid that the Democrats will draw the conclusion that because Congressman Ryan's proposal, I think, is not the best one, that we shouldn't do anything and I completely disagree with that."
Watch it here, from ABC News:
Have a tip we should know? tips@mediaite.com