O'Reilly And Letterman Slam 'Tedious' Debates, 'Nitwit' Undecideds, And Romney Not Coming On Their Shows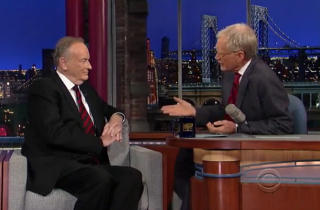 Wednesday evening, Fox News host Bill O'Reilly appeared on The Late Show with David Letterman. The two commiserated with one another over — among other subjects — the "tedious" presidential debates, GOP candidate Mitt Romney's reluctance to come on their shows, and "nitwit" undecided voters.
"I was so disappointed in the last debate," Letterman lamented to O'Reilly. "It was just yacking and yacking and yacking and yaking. It was the same nonsense we heard the first two debates. And I felt exhausted, winded, and bereft."
"It was unbelievably tedious," the Fox host agreed. "The problem with these debates is you allow the two candidates to say whatever they want. We need to constrict that and the moderators have to be able to ask tough questions," he said, before joking that "there should be some kind of water bucket that falls on them if they don't answer."
O'Reilly continued on to say that the moderators should have been more aggressive because "we should be able to see these guys under pressure" since they don't often do tough interviews.
"Neither of them have come in to talk to me in the cycle," O'Reilly told Letterman. "And I heard President Obama will be on MTV this week, and they'll sweat him, you know what kind of rap songs do you listen to?" The folks don't get to see them answering the tough questions," he bemoaned.
"We have our own problem," Letterman replied, adding that Romney won't come on his late-night program.
"You and I," empathized O'Reilly. "Because he's not on The Factor, we should just go and confront him."
Letterman then floated a theory that the Republicans want Americans to believe that the race is close in order to "suppress the vote," which O'Reilly roundly dismissed as complete "nonsense."
Later on, Letterman asked O'Reilly what he makes of the "nitwits" who identify as "undecided" voters. "Honest to God," he said, "after two years of this, who is undecided?"
"Well, I think you might want to ask Snooki about that," answered O'Reilly to laughter and applause.
Watch below, via CBS:
— —
>> Follow Andrew Kirell (@AndrewKirell) on Twitter
Have a tip we should know? tips@mediaite.com