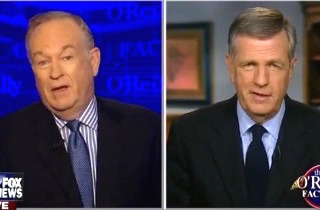 Bill O'Reilly on Fox News Monday, along with his guest Brit Hume, analyzed President Obama's ongoing trip to meet leaders in China, taking particular notice of a purple tunic Obama wore at the start of meetings in the country.
O'Reilly began citing an editorial in Chinese state-run media that criticized Obama as an ineffective leader ahead of his arrival.
"It's kind of tough for me watching an American president treated shabbily by the Chinese but I can't figure out what's in it for the Chinese. I mean, the president of the United States goes over there and, you know, wears the little tunic they have…" O'Reilly said, fanning his fingers out on the word "tunic."
Hume gave a visible little chuckle before explaining that China is a "paranoid" dictatorship that views Obama as weak.
Then back to the tunic, which is identified by other media outlets as a "Mao suit."
"You know I noticed that tunic, Bill, it's common at those Asian Pacific economic conference summits [sic] to have the leaders all wear something that is common to the host country," Hume said. "That's what that looked like to me. They usually do that for the class picture. I'm not saying wear it all day. I don't know that the president needed to do that."
For the record, Obama did change into a jacket-and-tie suit after the photo took place. He did not wear the tunic all day.
"I wouldn't wear that," O'Reilly replied. "Look, if I'm the president and they're working me over in the state-run media and they give me that tunic, I set it on fire. i mean, I'm not wearing that thing. Alright?"
With another chuckle, Hume said, "I thought it looked kind of good on him."
Watch via Fox News:
[Photo via Fox News/screen grab]
— —
>> Follow Eddie Scarry (@eScarry) on Twitter
Have a tip we should know? [email protected]