Out-of-Work Coal Miner Confronts Clinton Over Promise to Put Miners Out of Business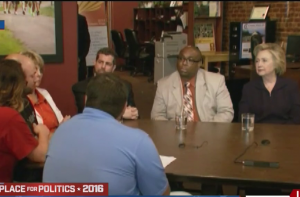 During a roundtable event Monday, an out-of-work coal miner confronted Democratic presidential candidate Hillary Clinton over her promise during a presidential debate to put coal miners and companies out of business.
"I'm the only candidate which has a policy about how to bring economic opportunity using clean renewable energy as the key into coal country," Clinton said in March. "Because we're going to put a lot of coal miners and coal companies out of business…"
Those comments came back to haunt her when campaigning in West Virginia. "The reason you hear those people out there saying things they say is because when you make comments like 'We're going to put a lot of coal miners out of jobs,' these are the kind of jobs you're affecting," said former miner Bo Copley.
.@HillaryClinton campaigns in coal country and is confronted by a former coal worker. @kwelkernbc reports. https://t.co/6qDwn070Kt

— Morning Joe (@Morning_Joe) May 3, 2016
Copley handed Clinton a picture of his family. "That's my future…" he said. "I want to know how you can say you're going to put a lot of coal miners out of jobs, and then come in here and tell us how you're going to be our friend. Because those people out there don't see you as a friend."
Clinton said in response that her debate comments were a "misstatement" that didn't reflect her actual beliefs. "I don't know how to explain it other than what I said was totally out of context from what I meant. I have been talking about helping coal country for a long time."
Watch above, via MSNBC.
[Image via screengrab]
——
>>Follow Alex Griswold (@HashtagGriswold) on Twitter
Have a tip we should know? tips@mediaite.com