Palin Bashes 'Lamestream Media' For Comparing Iranian Candidates To Tea Party: 'You Just Put The BS In CBS'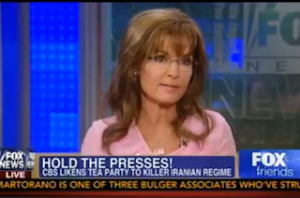 Sarah Palin returned to Fox News this morning for the first time since officially rejoining the network as a paid correspondent. Palin got some high praise from Senator Ted Cruz (R-TX) and wasted no time tearing into the "lamestream media" during a segment that also included Fox host Megyn Kelly.
Fox and Friends host Steve Doocy introduced a clip of CBS News reporter Elizabeth Palmer, who noted this weekend that all of the candidates running in Iran's presidential election were so conservative that in the U.S. it would be "as if all the candidates for the presidency came from the tea party."
Palin eagerly jumped on this topic, saying, "Elizabeth, you just put the BS in CBS. It's things like that that people hear and see and realize how out of touch the lamestream, the mainstream media is. To compare–really–the Iranian revolutionaries with those who are patriots in America and just want government to live within its Constitution? Really?"
Kelly tied Palmer's comments to an interview that CBS Evening News anchor Scott Pelley gave this weekend in which he questioned the need for cable news in an age when more and more people are getting their news from the Internet. "He thinks the right has Fox," Kelly said. "He thinks the left has MSNBC and he says CBS, they need to appeal to the entire country. And that's what they do through the reporting of women like Elizabeth."
"I think Scott Pelley used the word 'perception,'" Palin added (though that it not a word that appears in the Deadline interview being discussed). "He wanted to make sure that there was a perception of that fairness instead of just dealing in truth." She concluded the Pelley was "trying to make it sound like [CBS] needs to placate whomever the audience would be, instead of just telling the truth.
Watch video below, via Fox News:
—
>> Follow Matt Wilstein (@TheMattWilstein) on Twitter
Have a tip we should know? tips@mediaite.com