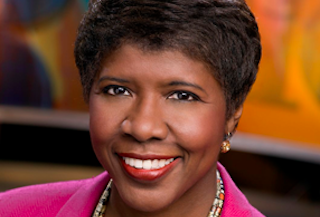 At the end of a week that began with Nelson Mandela's memorial service, PBS NewsHour co-anchor Gwen Ifill took to her Washington Week blog to denounce the media for ignoring the main story in favor of meaningless minutiae. Comparing the media's handling of that international news story to the way Congress' most conservative Republicans rejected the bipartisan budget deal that will help avoid future government shutdowns, Ifill writes that this was not the "first time we've lost sight of the bigger picture."
The anchor goes on to highlight three elements of the Mandela memorial that got far more play on cable news and other outlets than the legacy of Mandela himself. She begins with the handshake President Barack Obama shared with Cuban President Raul Castro. "The world did not shake," she writes. "Communism did not end. Cuban émigrés in Miami did not take to the streets."
The obsessive handshake coverage meant less focus on something Obama said when he took the podium, which Ifill says could very well have been directed at Castro: "There are too many leaders who claim solidarity with Madiba's struggle for freedom, but do not tolerate dissent from their own people."
Ifill also holds up Obama's "selfie" and the "fake" sign language interpreter as other "non-stories" that distracted the media from doing their jobs.
"I never cease to marvel how efficiently we can minimize real news – whether it be rare proof that Washington has a little bipartisanship left, or history unfolding on another continent," Ifill writes. "I'd feel a little better if we could at least try to remember the big picture."
Read Ifill's full column at PBS.org.
[photo via PBS]
— —
>> Follow Matt Wilstein (@TheMattWilstein) on Twitter
Have a tip we should know? tips@mediaite.com