Pete Alexander and Jon Karl Tag-Team Carney on Conservative Sebelius WH Visits Report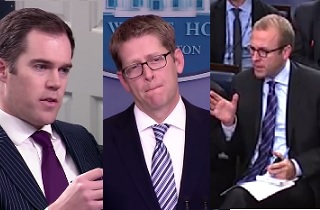 At Friday's White House daily briefing, NBC News' Peter Alexander and ABC News' Jonathan Karl questioned Press Secretary Jay Carney about a report by conservative investigative research organization the Government Accountability Institute, which asserted that President Obama "almost never met" with HHS Secretary Kathleen Sebelius in the runup to the troubled launch of Healthcare.gov.
Carney explained, with waning tolerance, why the report—which had been featured on Fox News and published by Politico—was false.
Alexander began by asking about the conservative group's analysis, which "shows that between July of 2010 and November, the end of November of this year, the President's public schedule was released showing that there were zero one-on-one meetings with Health and Human Services Secretary Kathleen Sebelius, though there were 277 other one-on-one meetings with other members of his Cabinet."
"That draws some questions about the President's leadership skills as the chief executive," Alexander continued. "And I'm curious what the White House response…"
"Peter, I wish you had called me beforehand because I'm in a very charitable mood today, so I won't go too strong on this," Carney interrupted, with mock good humor that was belied by his implicit criticism of Alexander's question. "But that report — not the report you cited — but the published report that was written by an advocate is based on a ridiculously false premise. As those of you who remember stories about WAVES records that supposedly indicated that Hillary Clinton, then-Secretary of State, met surprisingly infrequently with the President, showed that, with a little digging — which most of you know — Cabinet Secretaries don't regularly get entered into the visitors logs because they come frequently. And Kathleen Sebelius comes frequently, and she meets frequently with the President."
He referred Alexander to HHS for more detail, but added that "with the exception of when you look at public calendars and things, there are standing meetings for the secretaries of Defense, State and Treasury that this President has that are regular things, but he meets with other Cabinet secretaries in one-on-ones and small groups all the time. And I would note that those calendars may never show a meeting I've had with the President — I had two yesterday. So that's how it works."
There have been several news stories based on White House visitor records which have been debunked, and Carney's response was a not-too-veiled criticism of Alexander for failing to check it himself.
Later in the briefing, ABC News' Jon Karl followed up on Alexander's question, asking Carney if HHS would actually have the information on Sebelius' visits, or would simply refer reporters back to the White House.
"They'll have information for you," Carney said. "The point I'm trying to make here is — as I was making to a reporter earlier — is that there's obviously a lot of folks out there who have been rightly critical of Healthcare.gov, and in general, opponents of Obamacare and the whole effort who have made arguments, and that's fine. This one is just based on bad information. That's the only point I was making."
"And I just wanted to make sure we can get the correct…" Karl began.
"I don't have all the figures in front of me, but if you think about the Cabinet and the importance of, in this presidency, in particular, health care matters and health care reform, it's safe to say that Kathleen Sebelius has been one of the more frequent visitors to an attendance of meetings with the President," Carney said.
"So I don't have the figures, but if you — there's the Secretaries of Defense, State, and Treasury, as well as Department of Homeland Security, to be sure," Carney continued. "And they all have spent a significant amount of time with the President and met with him on the issues that they oversee. But because of the preeminence of health care and health care reform in this administration, first-term and second, it's safe to say that Secretary Sebelius spent a lot of time here."
"So could you just explain, though, how does — because you mentioned that on the schedule we see that the standing meetings with Secretaries of Defense, State, Treasury, and the other meetings don't show up on the schedule. How do you determine what you decide you're going to publicly notice, and what you're not going to?" Karl asked.
Carney explained that "we endeavor to put as much as we know in advance, and as much as we can on the public schedule that we release the day before," but that "we talk often about meetings that have happened that either are thrown on in the last minute," and later added that "there are some meetings that he has that are private, and we don't put them on the public schedule for a variety of reasons."
"But I think especially those numbers that Peter was citing are based — a lot of them are based on those standing weekly meetings, like the Vice President's standing lunch, weekly lunch, that are imprinted on there, and those numbers show up," Carney concluded.
Update: HHS spokesperson Joanne Peters responds, via email to Mediaite:
Secretary Sebelius has been to the White House countless times since becoming Secretary. She is frequently at the White House for meetings related to the implementation of the Affordable Care Act, including dozens with the President in the last year alone. In fact, she met with the President just this thursday.
Here's the clip, from The White House:
Have a tip we should know? tips@mediaite.com