Politicians Can Take A Lesson From Jennifer Lawrence's Mocking Post-Oscar Press Conference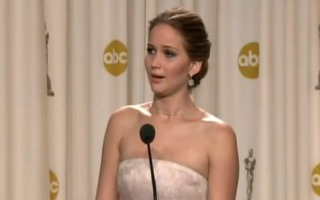 Actress Jennifer Lawrence, winner of the Oscar for Best Actress for her performance in Silver Linings Playbook, could teach the political class a thing or two – and not just about acting. Lawrence's post-Academy Awards press conference was artful, funny, flippant and endearing – at least, it was for the viewers at home. For the press who she ruthlessly mocked and whose questions she reluctantly answered in a glib but charming fashion, Lawrence may not have been their favorite interview of the night.

RELATED: Oops! Jennifer Lawrence Falls On Way To Pick Up Best Actress Oscar
When asked what the "process" was for preparing to come to the Oscars, Lawrence replied – with all the sincerity and lack of affectation that one would expect from anyone other than an Academy Award-winning actress – that she woke up, took a shower, tried on the dress and "came to the Oscars." That last bit delivered with a bit of faux pomposity she knows the reporter was expecting.
"I'm sorry," Lawrence added. "I did a shot before I…"
Lawrence displayed humility and self-deprecation – it was disarming. Probably due mostly to that particular character trait's conspicuous paucity in Hollywood, as well as Washington D.C.
"The fall up to the stage," another reporter then asked regarding a minor trip that Lawrence encountered on her way on stage to accept the Oscar. "Was it on purpose? Absolutely," Lawrence said, simultaneously anticipating and rejecting the reporter's premise before it had even been submitted. "What happened?" the reporter asked. "What do you mean 'what happened?' Lawrence replied. "Look at my dress."
Contentious, but entirely lacking in aggression. Mocking, but buttressed by a transcendent likeability.
And that is precisely the lesson for politicians in Lawrence's acceptance press conference. She was not talking to the press, she was talking over their heads and to the audience at home. The press, Lawrence understood, was merely a medium to speak directly to the viewers – the people who pay her salary.
Too often politicians are convinced that the press is the audience. Playing to the room is the end rather than a means. When politicians do this — vying for approving editorials or copy that eschews unfavorable descriptive adjectives and just presents the facts – it is often a losing game.
One politician who has a good handle on Lawrence-style press relations: Gov. Chris Christie. For every premise he accepts, he rejects two. For every question he answers straight, he criticizes another. The media regards his behavior as antagonistic. New Jersey's voters? 70 percent job approval or higher – and majority approval among his political opponents.
Politicians could be taking notes. The press is not the audience – they are merely a vehicle. Smart politicians, and actresses, as it turns out, treat them as such.
> >Follow Noah Rothman (@NoahCRothman) on Twitter
Have a tip we should know? tips@mediaite.com