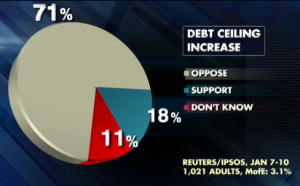 Before the Arizona shooting, most of the talk amongst politicians and commentators revolved around the impending debt crisis, whether Congress would vote to raise the debt ceiling, and if they didn't whether it would be "insanity." Now the issue is slowly creeping back into the national conversation given that the U.S. hits the current debt ceiling in March and a new Reuters/IPSOS poll reveals a surprising statistic: 71% of Americans are against raising the ceiling.
Conservative columnist John Fund from The Wall Street Journal appeared on Fox News today to discuss these results and to warn Americans that although he thought the message of the November election was for Washington to stop massive spending, ending such "madness" would take some time. Fox host Martha MacCallum wasn't convinced that anything different will happen given that Congress always raises the debt ceiling and never dramatically changes their spending habits. Yet Fund claimed "there's a new force in town, called the Tea Party. And I don't think they're going to let the Republican Congress get away with just a clean debt ceiling increase" without forcing Republicans to get a compromise that includes significant spending limitations.
They also predicted that new White House Chief of Staff William Daley will be a new ally for Republicans seeking compromise and they discussed areas of the federal budget that Americans want trimmed, including education, Medicare and social security. After a week of "violent rhetoric" and "blood libel," who would have guessed the debt ceiling topic would suddenly be a stimulating and welcome change of pace?
Watch the video from Fox News below:

Have a tip we should know? tips@mediaite.com