Predictions Of Riots If Zimmerman Acquitted Display Appalling Lack Of Faith In Black Community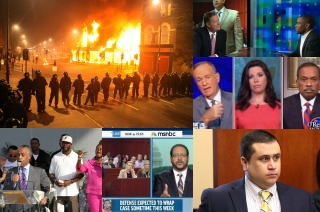 Imagine the pleasant surprise I encountered after reading the headline "just in case George Zimmerman walks free…" adorning the top of a post composed by hip hop mogul and GlobalGrind.com founder Russell Simmons. It was my hope that Simmons, a respected voice in the black community, would spell out for an attentive audience why pundits preparing their audiences for riots in the wake of a possible acquittal were wrong. Instead, Simmons identified a variety of "victories" that resulted from the killing of Trayvon Martin. He cited setbacks for the National Rifle Association and state-level "Stand Your Ground" laws which he believes the activists who turned the trial into a political proxy war made possible. Simmons' post is just one of many reckless provocations that have become a lamentably familiar aspect of the coverage of this trial and its "effect of inflaming passions without enlightening," as National Journal's Matthew Cooper put it.
But worse than the base impulse to score political points and threaten national comity by implying that one or another cultural worldview is threatened by a verdict in a far-flung murder trial are the pundits and officials readily preparing for – and, in some cases, stoking through innuendo – a violent reaction from African-Americans should the jury find Zimmerman not guilty. What is most striking is that few bristle with offense at the obscene implication that African-Americans will be unable to internalize such an outcome without lashing out in an uncivilized fashion.
"Do you think bad things are going to happen if Zimmerman is acquitted?" Fox News Channel host Bill O'Reilly asked on Monday, not ruling out the "possibility" that a not guilty verdict could result in damage done to "the fabric of the nation."
He was quick to note that, if Zimmerman is found guilty of second degree murder or a lesser charge, the threat of violence would dissipate entirely.
"If George Zimmerman is acquitted, there will be racial animus," O'Reilly predicted on Tuesday night's program.
"The only thing the American press will embrace is the specter of oppression," he continued, lamenting the media's disinterest in chronic black-on-black violence in favor of rarer instances of white-on-black or black-on-white crime. "That is, if a white American kills a black American, or any other minority, then the story gets covered. That's wrong, and it causes racial division."
Displaying an uncharacteristic lack of faith in his fellow Americans, O'Reilly correctly identifies the bait but also appears to presume that the public will take it.
But the specter of violence arising from Zimmerman's shooting of Martin has always been a feature of the story. Indeed, CNN contributor and Columbia University associate professor, Marc Lamont Hill, told Piers Morgan on Tuesday night that Zimmerman was only charged in the first place because of the burgeoning "civil unrest."
One of the reasons why there was burgeoning "civil unrest" before Zimmerman was charged was because one of MSNBC's hosts, Rev. Al Sharpton, traveled to the Sunshine State last year to rally the public against the Florida Justice Department for not identifying a charge – any charge – with which to seek an indictment against Zimmerman. The result was that the state overcharged and seems unable to conclusively prove their case against Zimmerman in court.
On Tuesday, as the writing on the wall grows ever more legible, the consistently irresponsible political commentator and Georgetown University professor, Michael Eric Dyson, warned the public that there would be no acceptance if justice – as he defines it – is not done in this case.
Dyson identified the American "legal system" as the problem in this case because it does not "speak to the issues that are being raised here."
"Time and again, for one reason or another, young black people lose their lives and it is seen as the necessary condition for the justice system to prevail," Dyson declared. "And the George Zimmermans of the world continue to get away, if it is true, with the killing of our children without necessarily facing the kind of consequences that a justice system would demand."
Most unfortunately, the intentional inflaming of passions surrounding this case by the pundit class may have its desired effect. "Raise your voice, not your hands," a headline on the Broward County Sherriff's Department website warned residents. "Freedom of expression is a constitutional right. While raising your voice is encouraged, using your hands is not."
The media has undoubtedly comported itself in an embarrassing and arguably immoral fashion in their coverage of Martin's shooting. There is a detectable undercurrent in the editorializing coverage of Zimmerman's trial that appears to tacitly welcome a violent reaction if the defendant is acquitted.
But the media would be advised to display a bit more faith in the American public to react rationally if a not guilty verdict is the ultimate outcome of this trial. I may be wrong, and my pride will certainly be the last thing that I mourn should violence in the wake of a possible acquittal materialize, but I do not believe that I will be wrong. The American people are stronger – and better — than that.
> >Follow Noah Rothman (@NoahCRothman) on Twitter
Have a tip we should know? tips@mediaite.com