President Obama's Labor Day Remarks Challenge GOP To Put Country Before Party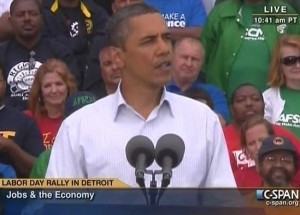 President Barack Obama used today's Labor Day address to preview Thursday's jobs speech and to ask the Republicans in Congress to put country before party. He did not, to the dismay of many, address Teamster head Jimmy Hoffa Jr.'s remarks from earlier in the day wherein he rallied union workers to war with the Tea Party.
"We've gone though a decade where wealth was valued over work, and greed was valued over responsibility. And the decks were all too often stacked against ordinary folks in favor of special interests," said Obama at an event sponsored by the Metropolitan Detroit AFL-CIO. "America cannot have a strong, growing economy without a strong, growing middle class and without a strong labor movement," he continued in appeal.
Following last week's stagnant jobs report, he offered that "there is work to be done and there are workers ready to do it. Labor is on board. Business is on board"– and, in anticipation of Congress's return to session next week, he continued– "we just need Congress to get on board. Let's put America back to work."
Teasing next Thursday's much embattled jobs speech, he called on the GOP to put the struggling country ahead of their party, and urged Congress to move quickly in creating new jobs:
"The time for Washington games is over. The time for action is now. No more manufactured crises. No more games. Now is not the time for the people you sent to Washington to worry about their jobs; now is the time for them to worry about your jobs."
"Prove you'll fight just as hard for tax cuts for middle-class families as you do for oil companies and the most affluent Americans," he demanded, addressing the GOP's claim that they are a "party of tax cuts": "Show us what you got."
Obama's tone was stern, and unlike Hoffa's inciting opening remarks, his rhetoric proposed challenge rather then war. "We're going to see if we've got some straight shooters in Congress. We're going to see if Congressional Republicans will put country before party," he said. The battle, he seems to believe, is one the Republicans are going to have to fight with themselves.
Watch the full address below:

Have a tip we should know? tips@mediaite.com