Pressed By GOP Senator, Former IRS Commissioner Refuses To Apologize For Targeting Conservatives
Pressed By GOP Senator, Fmr. IRS Commissioner Refuses To Apologize For Targeting Conservatives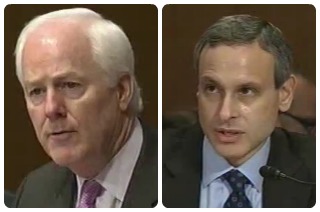 On Tuesday, Sen. John Cornyn (R-TX) grilled former Internal Revenue Service Commissioner Douglas Shulman over allegations that he presided over the institutional targeting of conservative groups for undue scrutiny when they applied for tax-exempt status. Cornyn pressed Shulman to apologize for the conduct of his agency over the course of his tenure. Shulman replied that the Inspector General's report has absolved him of culpability for those abuses.

Cornyn began by noting that Steven Miller, the former IRS acting commissioner, opened his testimony before the Senate panel with an apology. Cornyn asked Shulman if he, too, would begin by apologizing for the IRS' systemic targeting of conservative groups.
"I'm deeply, deeply saddened by this whole set of events," Shulman replied. "I've read the IG's report and I very much regret that it happened and that it happened on my watch."
"Is that an apology?" Cornyn replied.
RELATED: IRS Apologizes for Targeting Conservative Groups During 2012 Election
"To your constituents?" Shulman asked. "I don't know the details of our constituents. I don't know what happened to them."
Shulman said that, as the IRS commissioner between 2008 and 2012, he did not examine individual cases and had nothing to do with those cases that involved political activity.
"So, it's not your responsibility," Cornyn clarified. "The buck doesn't stop with you."
"I certainly am not personally responsible for creating a list that had inappropriate criteria on it," Shulman replied. "What I know, with the full facts that are out is – from the Inspector General's report – which doesn't say that I'm responsible for that."
Cornyn asked Shulman if he thought it was a dangerous idea to allow the IRS to administer non-revenue related activities like the oversight of the implementation of the Affordable Care Act. Shulman replied that the IRS is charged with administering the nation's tax laws, and he deferred to the Congress as to whether they think it is appropriate to amend the IRS' responsibilities.
Watch the clip below via C-SPAN 3:
> >Follow Noah Rothman (@NoahCRothman) on Twitter
Have a tip we should know? tips@mediaite.com