Priebus' Ultimatum To NBC Over Hillary Movie Forces MSNBC Hosts Into Resentful, Defensive Crouch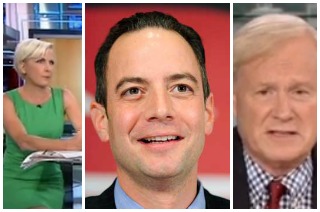 Republican National Committee Chairman Reince Priebus threw down the gauntlet to CNN and NBC this week over their planned pre-2016 docudramas about the life and times of likely Democratic presidential candidate Hillary Clinton. He insisted the networks must drop their dramatizations of Clinton's career or lose access to the Republican Party's 2016 primary debates.
I maintain that this was a foolish move – Priebus is now painted into a corner and will have to make good on his threats when neither network complies, an outcome which will ultimately make the GOP appear petty and insular. However, Priebus' threat has already yielded one welcome outcome: his preemptive attack on NBC's entertainment division, calling them out for being incapable of producing an objective miniseries about Clinton, has forced MSNBC's liberal hosts into a defensive crouch.
MSNBC's hosts are now asking pointed, bristling questions about how they are any different from other news networks with an identifiably partisan editorial culture. This level of self-awareness is a new feature at the liberal cable news network. It is also the first step on the road to self-discovery, acceptance, and resolve to adapt and change as necessary.

On Wednesday morning, a visibly offended Morning Joe co-host Mika Brzezinski tore into Priebus over his ultimatum to NBC and asked where his outrage was over the pro-GOP editorial bias shared by many of Fox News Channel's hosts.
"The Republicans have their own network that has a president that asks people to run for the party," Brzezinski submitted as a justification for… what exactly?
"Until Reince Priebus is demanding fox do great pieces on Democrats and documentaries I'm not sure it is completely a perfect argument," she continued.
"What about it?" Brzezinski shot back at Joe Scarborough when he asked about the bias which permeates MSNBC's editorial culture. She proceeded to go off on how Fox "feeds," "airs," and "hires" the Republican Party's political figures.
"Every time you bring up Fox, you've got to bring up MSNBC," Scarborough countered.
"I don't see MSNBC going after Democratic presidential candidates or trying to hire them," Brzezinski replied dismissively, calling Fox a "mouthpiece for the Republican Party." The co-hosts battled over whether MSNBC's primetime programming was more neutral and objective than Fox's, ultimately agreeing to disagree.
RELATED: Matthews Insists The Fact That Obama Steers Clear Of MSNBC Proves Network Not Biased
Brzezinski's self-conscious assault on Fox mirrors an asinine statement made by MSNBC host Chris Matthews on Tuesday during a conversation about the same topic: whether Priebus had a point about an institutional liberal bias at NBC.
Matthews attempted to defuse Priebus' absurd claim that a miniseries which has not yet been filmed and of which he knows nothing about will be wholly complimentary to Clinton by inventing the equally absurd premise that the NBC drama will be nearly entirely unfavorable to the Clintons.
He then insisted that those who suggest MSNBC's editorial culture is pro-Democratic, specifically pro-Barack Obama, are undone by the fact that the president has not once appeared on that network.
"By the way, those who talk about the tight relationship between MSNBC and Barack Obama, for example, count the number of times he's been on this network," Matthews told his guests before confidently producing the trump card: "Zero."
Furthermore, Matthews insisted, if MSNBC is perceived as being pro-Obama, it is because the president is following the lead of opinion makers like himself. "He agrees with us and we agree with him sometimes," Matthews added. "I actually have my views and he tends to coincide with them."
We'll be gracious and chalk that last gem up as an attempt at tongue-in-cheek humor.
Priebus' ultimatum is a strategic blunder for the GOP, but he has also apparently torn away a scar at MSNBC and exposed a raw nerve. If the RNC chairman's charge of bias at NBC was laughably false, it would have resulted in flip and mocking responses from MSNBC's prominent personalities. Why is it, then, that no one seems to be laughing?
> >Follow Noah Rothman (@NoahCRothman) on Twitter
Have a tip we should know? tips@mediaite.com