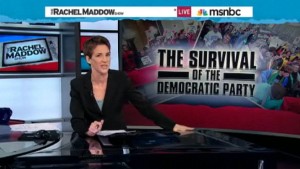 Rachel Maddow weighed in on the Wisconsin union protests and suggested that Wisconsin Governor Scott Walker was stripping unions of power primarily to weaken the Democratic party in future elections. Any crisis related to the budget, Maddow believed, was either fabricated, or only true as a result of Walker's own tax giveaways to business. The nonpartisan website PolitiFact declared such assertions to be "false."
Maddow informed her audience:
I'm here to report that there is nothing wrong in the state of Wisconsin. Wisconsin is fine. Wisconsin is great, actually. Despite what you may have heard about Wisconsin's finances, Wisconsin is on track to have a budget surplus this year.
If Wisconsin is in great financial condition, PolitiFact suggests that the message has yet to be received by the state. Furthermore, Maddow suggested that the Governor's recent tax breaks to businesses are now the cause of any shortfall. However, PolitiFact clears up this rumor as well, revealing that such tax cuts will increase the government's deficit but not until next year's budget when they actually go into effect. PolitiFact concludes, "there should be no debate on whether or not there is a shortfall. While not historically large, the shortfall in the current budget needed to be addressed in some fashion."
Given the view of some that the future of the Democratic party might be at stake and the quickness with which this budget fight became a national story, it's understandable for passions to be running high on both sides of the argument. Yet now with the facts unveiled, it will be interesting to see whether Maddow is willing to recalibrate her view.
Watch the clip from MSNBC below:

Have a tip we should know? tips@mediaite.com