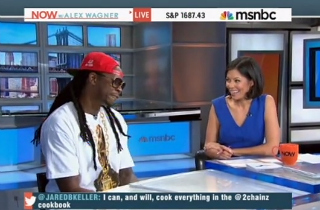 In celebration of his sophomore album, B.O.A.T.S. II: Me Time, rapper 2 Chainz made a guest appearance on… MSNBC's Now w/Alex Wagner?
Yep, you read that correctly. The artist behind hits like "No Lie" and "Birthday Song" dropped by MSNBC to discuss — among other things — his cookbook, his new album, and New York's controversial "stop and frisk" policy.

In light of his new album's lead single being titled "Feds Watching," host Alex Wagner asked for Chainz's thoughts on surveillance issues related to the minority community and privacy. He explained:
"Feds Watching" is a reality record. It's no secret that our country has been — somebody is monitoring us every step of the way, every cell phone, so many satellite towers. For me, being a rap artist, having my schedule online, it's really not hard. Being a part of social media, Twitter, Instagram, whatever it is, it's not really hard. Our privacy is basically eliminated at the end of the day. So I feel like, you know, it's another step with the government, for a lot of rappers and entertainment, period, we walk on egg shells not to make any mistakes because almost everything we do is under a scope.
Ultimately, he added, "I just try to entertain without boring" his audience, and he prefers to educate listeners in more subtle ways. "They might dance and party to some of my music but it still may have an underlying meaning or substance involved," he said.
And then they talked about his cookbook.
Watch the segment below, via MSNBC. And Happy Friday!
— —
>> Follow Andrew Kirell (@AndrewKirell) on Twitter
Have a tip we should know? tips@mediaite.com